Distinguished Service Order (GVR) and 2nd award bar

£1250



In Garard & Co. case of issue. Enamels in good condition.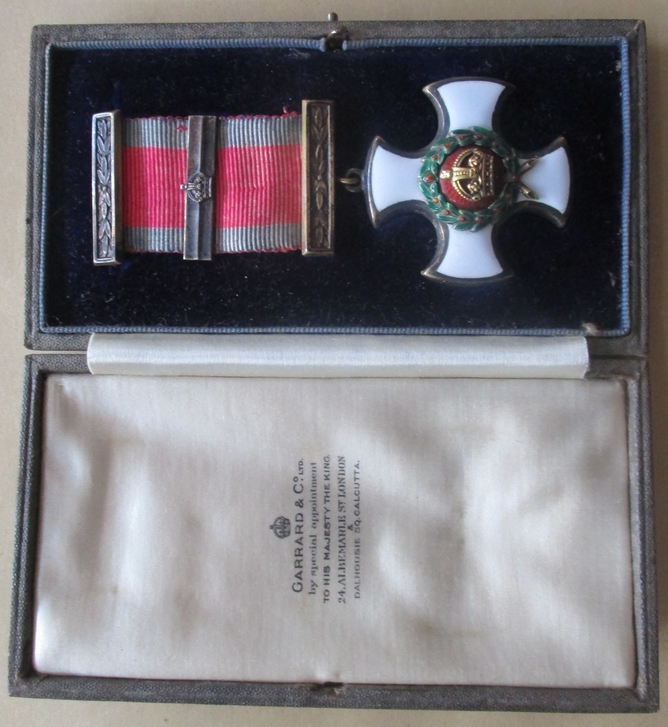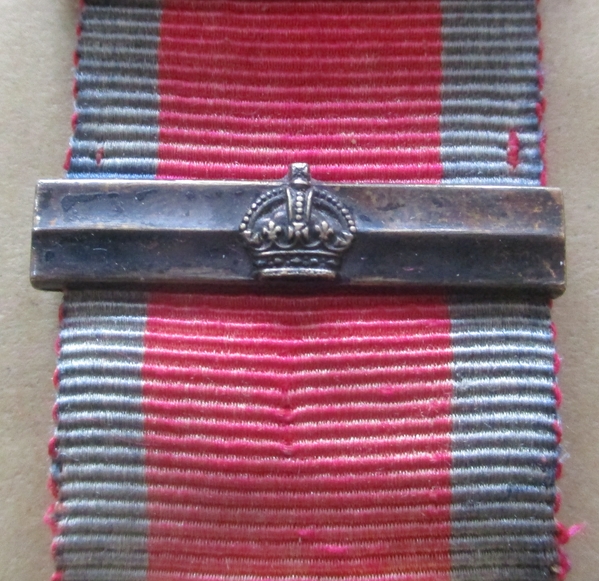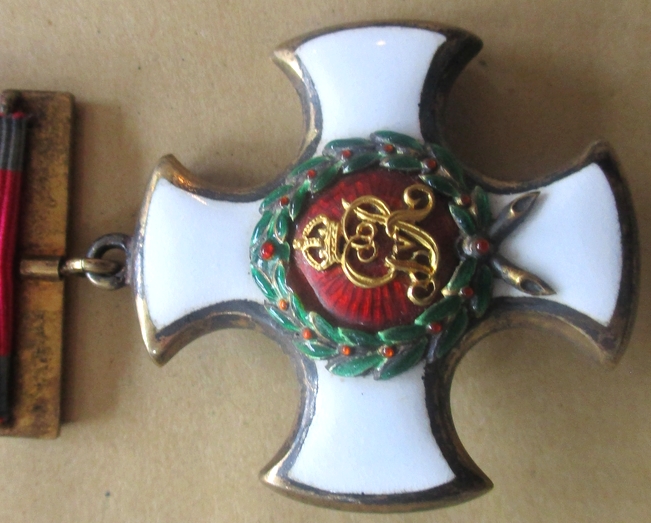 A


Army Emergency Reserve Efficiency Medal
22824241 CFN. J.E. AINSWORTH. REME.
£125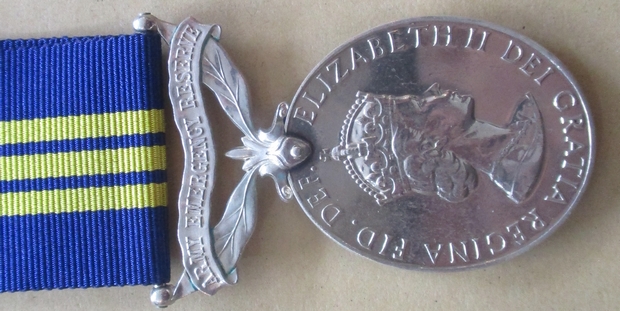 B

South Africa Medal
2280 PTE. J.E. BARKER, 1ST DN. GDS.

£600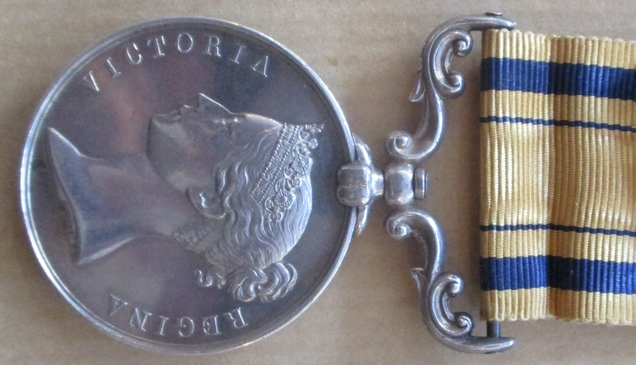 Indian Mutiny Medal
JOHN BROWN 12TH ROYL LANCERS.

£450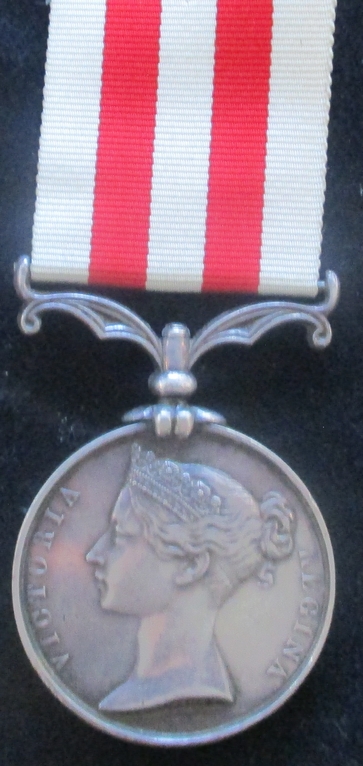 John Brown was born in Brighton and enlisted in the 12th Lancers in August 1857, aged 20. Served in India for 12 years. Served with the Berar Field Force November 1858 to March 1860 and at the action at Chichuruba 15 January 1959. Transferred to the 7th Hussars February 1860. Discharged 29 May 1873 suffering from inflamation of the liver.


C


Distinguished Service Cross
1914/15 Star
LIEUT. A.H. CHAFER R.N.R. (renamed)
British War Medal
LT.COMMR. A.H. CHAFER. R.N.R.
Victory Medal
LT.COMMR. A.H. CHAFER. R.N.R.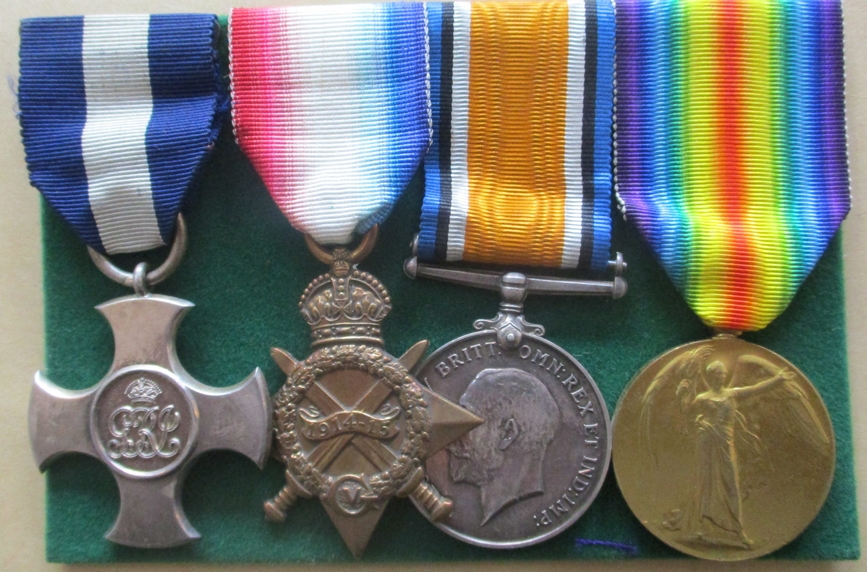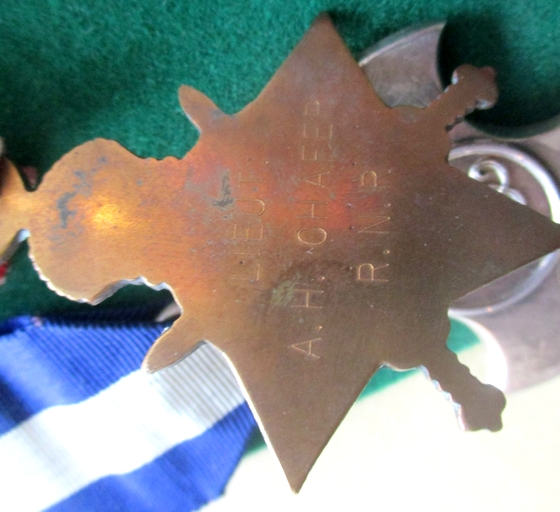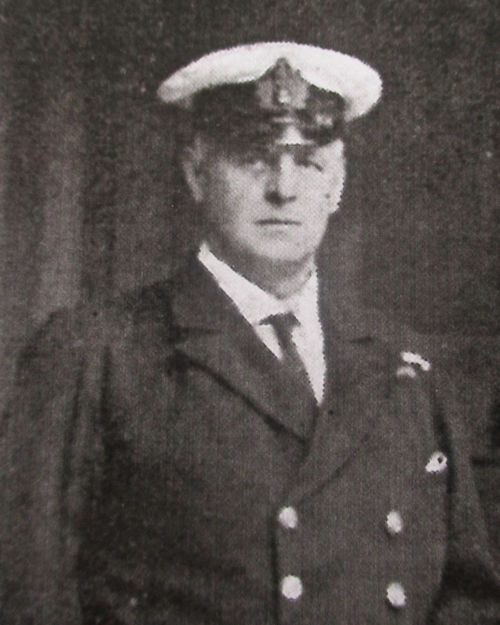 Alfred John Havercroft Chafer was born 1867 in Grimsby. 1891 joined the Great Central Railway company steamer service as 2nd officer on the SS Ashton. November 1891 he was awarded the Board of Trade bronze medal for gallantry in saving life at sea, when the ship Enterkin sank. Promoted to Captain 1894.
Lt. Royal Naval Reserve December 1914. Commanded paddle mine-sweeper "Slieve Bearnagh".
DSC Gazetted 29 June 1917 "services in Mine-sweeping operations between 1st July 1916 and 31 March 1917." The recommendation states: "On the 22nd January 1917, he discovered and rapidly cleared seven enemy mines from a dangerous position. On 4th March 1917, he rendered valuable assistance under difficult conditions, in exceptionally heavy weather in sweeping up six enemy mines, thus successfully clearing an important channel." Acting Lt-Cmdr 31 December 1917. Demobed May 1919 and returned to his work as Captain of the SS "Bury". September 1924 he was commended for the rescue of the crew of an Estonian ship "Sakala". Retired June 1931 and died in Grimsby 21 April 1935. Brother below.


Group of Four: £1200



O.B.E. (civil)
1939-45 Star, Atlantic Star, Pacific Star, Italy Star, War Medal
Lloyds War Medal for Bravery at Sea
CHIEF ENGINEER OFFICER A.J. CHAFER, S.S. "CITY OF LANCASTER," 14TH JUNE 1943.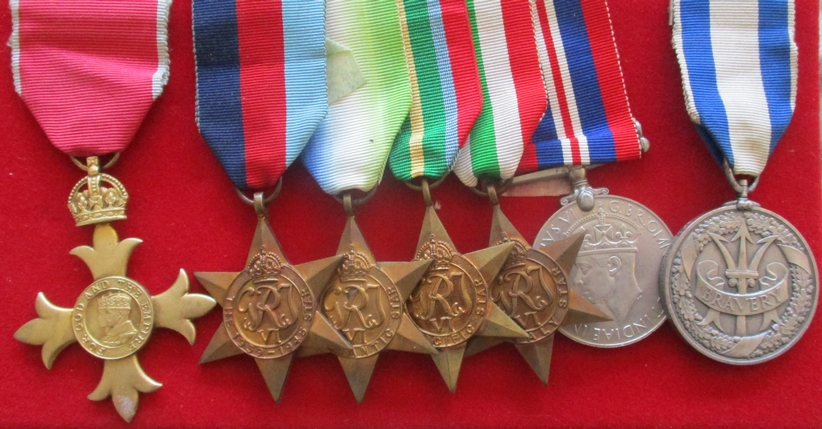 Alfred John Chafer was born in Grimsby 29 July 1893, brother of the above. On 20 Janaury 1917 he was on the SS Bulgarian, which was sunk by a German submarine in the Atlantic. 14 crew were killed and 9 taken prisoner of war. 3rd Engineer Alfred John Chafer was captured and sent to Wilhelmshaven and then to a camp at D
ü
lmen. Returned to sea after the war and worked for the Ellerman Line. He became the Chief Engineer of the City of Lancaster, wihch took part in convoys to the Mediterranean. 27 April 1943 left Glasgow bound for Gibraltar. On morning of 14 June 1943 a German Condor attacked the ship, dropping ten bombs, the ship was damaged the engine room, causing flooding. Directed by Alfred, the engine room crew fought to repair and control the flooding and keep the ship moving. She arrived at Gibraltar the next day.
London Gazette 11 January 1944: O.B.E. (ciivil) Chief Engineer Alfred John Chafer. "The ship sailing in convoy was attacked by enemy aircraft.... Some bombs fell very close, causing damage and flooding in the engine room. The Chief Engineer displayed great courage. In spite of grave risks, he and his staff immediately set to work to effect repairs and the leakage was quickly reduced. By his good organisation and example the engines were thus kept running enabling the ship to keep her station in the convoy and preventing her from becoming an easy target for the enemy. There is little doubt that Mr Chafer wa largely responsible for saving the ship." 11 August 1943 Lloyds of London awarded their medal to Alfred for the same incident.
Alfred was disacharged from his last voyage 15 December 1963, aged 70 and he died in Grimsby in September 1968.
Group of Seven: £750

RESERVED




Military Medal
G-218 CPL.-L.SJT:- A. COOPER. 7/R. SUSS: R.
British War Medal
G-218 CPL. A. COOPER. R. SUSS. R.
Victory Medal
G-218 CPL. A. COOPER. R. SUSS. R.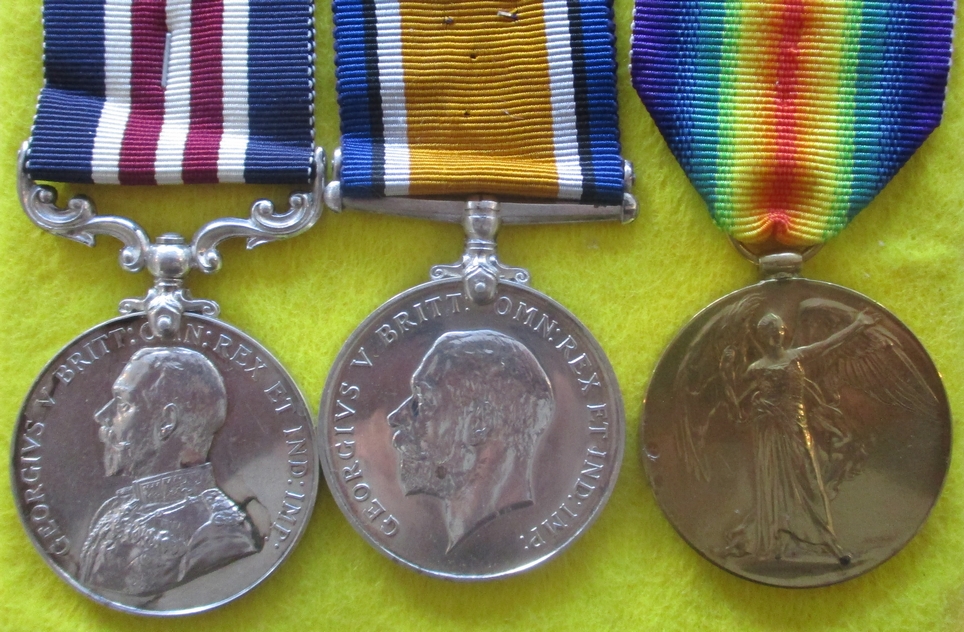 Archibald Cooper was born in Chichester 1894 and served with the 7th Battalion Royal Sussex Regiment. To France 1 June 1915 (entitled to 1914/15 Star). Awarded the Military Medal (Gazette 19 March 1918) for service at the Battle of Cambrai 20-30th November 1917, where he was wounded in the right hand. After treatment he was transferred to the Royal Defence Corps. He died of influenza at Battle Mount Military Hospital on 21 November 1918 and received a military funeral at Portfield Church, Chichester. A family history has been published online and includes a photo of Archibald. His brother, Fred Cooper, was killed at Ypres in March 1917.


Trio: £425
RESERVED

D

South Africa Medal

1879
T/1402. S-C.S. A. DILLEY. A.S. CORPS.

£700
RESERVED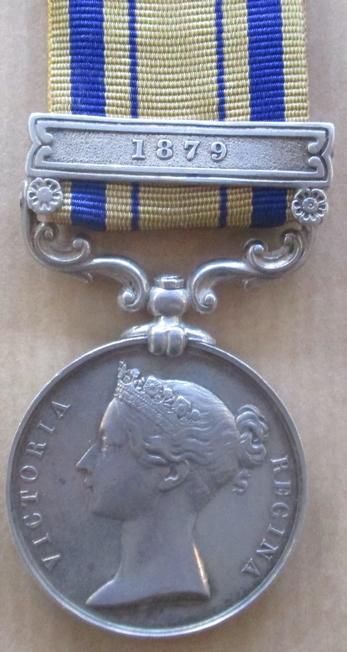 Alfred Dilley was born in London and enlisted October 1876, aged 18. Appointed Shoeing and Carriage Smith 1879. Discharged to Army Reserve April 1883. Served in South Africa June 1879 to Janaury 1882 and in Egypt 1882-83 (entitled to Egypt Medal with clasp Tel el Kebir).


Victory Medal
120443 PNR. E. DUFFY. R.E. £15
Edward Duffy was from Manchester and served in France from 2 October 1915.Discharged April 1917.


E

Korea Medal
C/MX 855593 P.K. ELLIOTT A/E. F.A.4. R.N.
General Service Medal

Borneo / Malay Peninsula
MX. 855593 P.K. ELLIOTT. E.R.A.1. R.N.

Royal Navy Long Service Good Conduct Medal
MX. 855593 P.K. ELLIOTT. E.R.A.1. H.M.S. CALEDONIA.
UN Korea Medal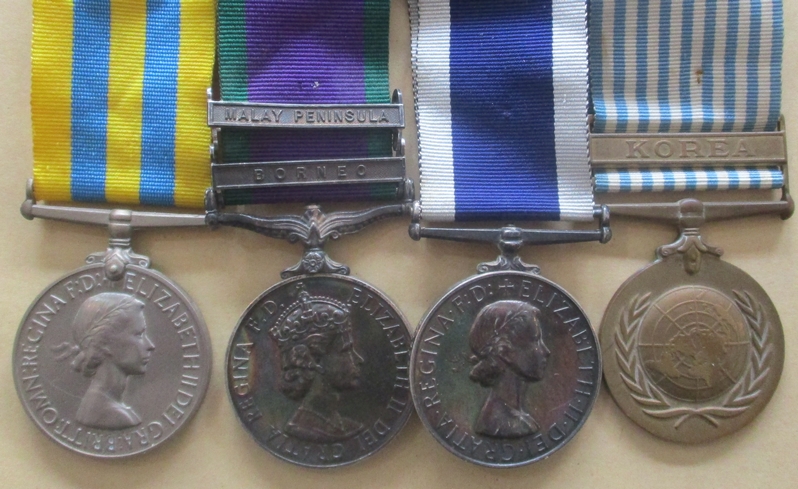 Mounted as worn. Top clasp loose on ribbon.
Group of Four: £300

Indian Mutiny Medal

Relief of Lucknow
CHAS ESTCOTT. 82ND REGT.

£390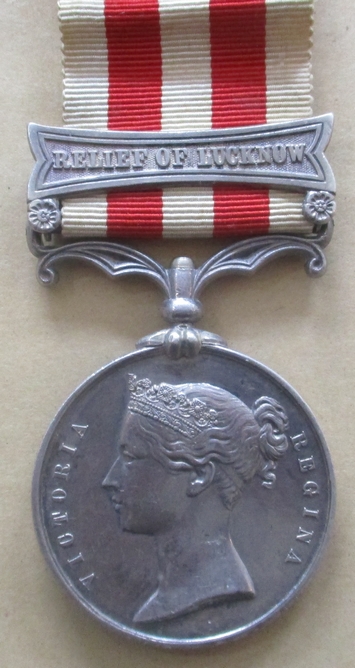 Charles Estcott. Also served in the Crimean War. He died 15 February 1870.

G
Egypt Medal

Tamaai
733 PTE. J. GRAHAM, 10TH RL HUSSARS

£280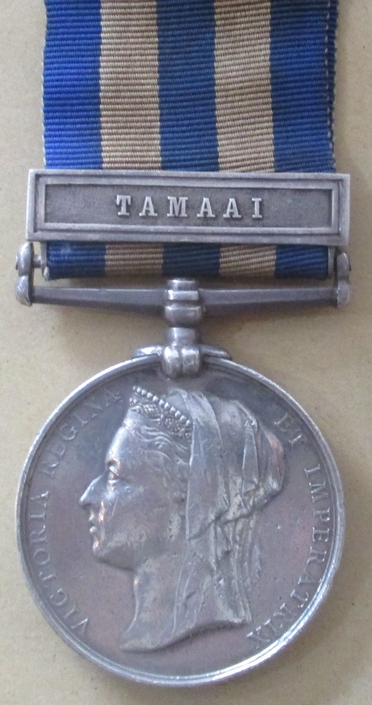 James Graham was born in London and enlisted September 1865 into the 10th Royal Hussars. Medal and clasp confirmed on roll. Discharged July 1886.

India General Service Medal

N.E. Frontier 1891
2515 Sepoy Badi Gurung. 43rd Bl. Infy.

£145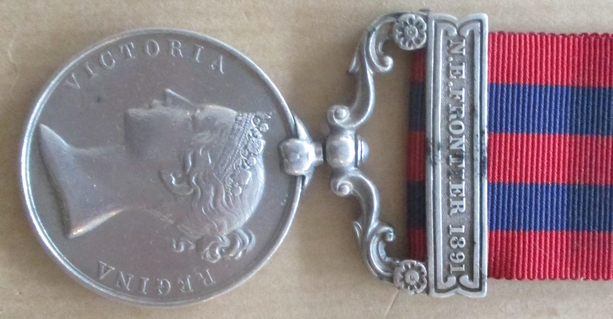 H


Imperial Service Medal
SYDNEY H. HELLER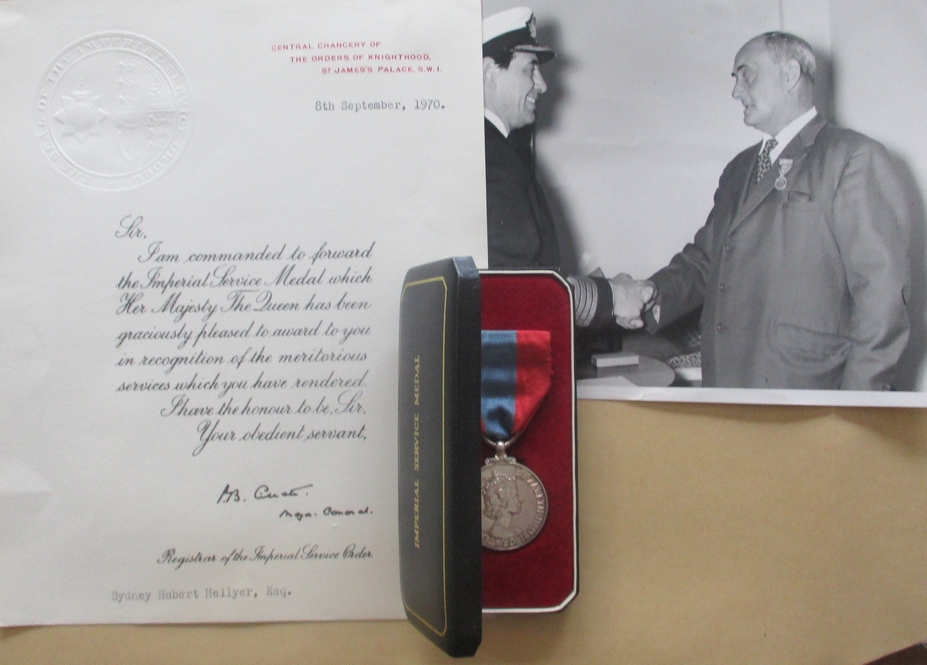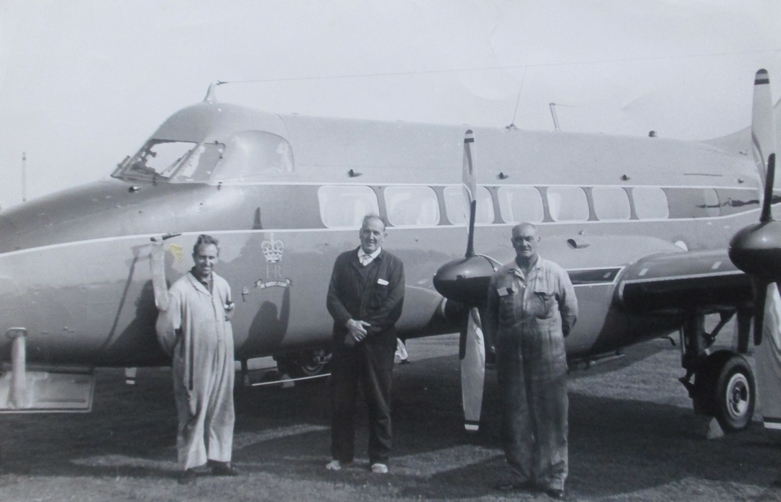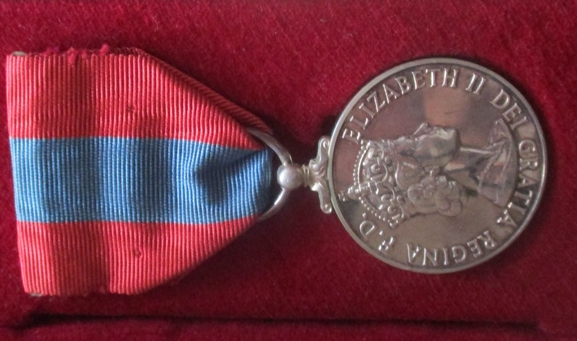 During the war he served in the Home Guard from 10 June 1940 to 31 December 1944. Lot includes his Home Guard service certificate and he is entitled to Defence Medal.
He died 26 November 1988 at Portchester. Worked as an aero-engine fitter for the Admiralty.
Pair:

SOLD




1914/15 Star
12717 PTE. W. HOLBROOK. GLOUC: R.

British War Medal
12717 PTE. W. HOLBROOK. GLOUC. R.
Victory Medal
12717 PTE. W. HOLBROOK. GLOUC. R.
William Holobrook was living in Winchcombe in 1911, aged 19. He served with the 9th Battalion Gloucestershire Regiment in Salonika.


Trio:
SOLD

1914/15 Star
RMA. 14401. GR. S.E. HOUCHEN,

British War Medal
R.M.A. 14401. GR. S.E. HOUCHEN.
Victory Medal
R.M.A. 14401. GR. S.E. HOUCHEN.
Memorial Plaque
SAMUEL EDWARD HOUCHEN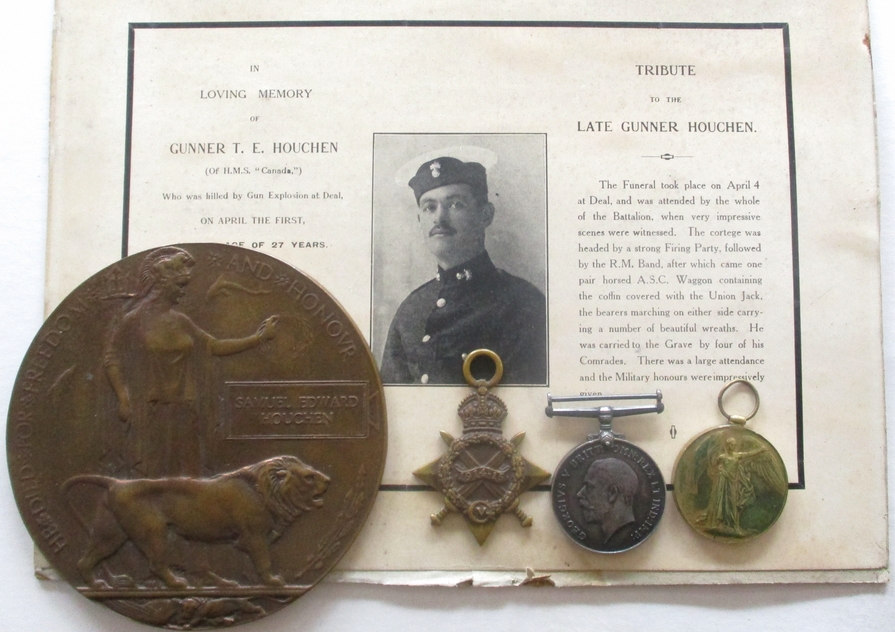 With original printed memorial.
Samuel Edward Houchen was born in Nottingham in 1892 and enlisted into the Royal Marine Artillery in September 1914. Posted to HMS Canada August 1915. Posted to the Roya, Marine Brigade February 1918. Accidentally killed by a gun explosion 1 April 1918. Buried at Deal Cemetery.
The inquest reported that on the morning of 1 April, during practice firing, a stokes gun exploded killing four men and injuring another five. It was found that the accident was caused by a premature explosion of a shell in the gun and there was no fault by the crew.


Trio & plaque: £300



K

General Service Medal

S.E. Asia 1945-46
WO W H KIMBER (1430832) RAF

£70

Late-issue, in box of issue.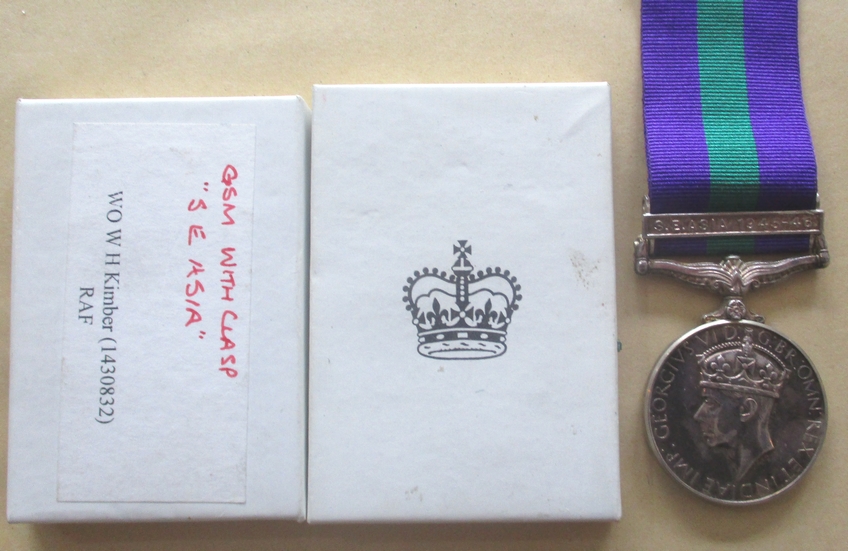 L

General Service Medal

Northern Ireland
24146699 RFN. A.B. LEACH RGJ.

U.N. Cyprus Medal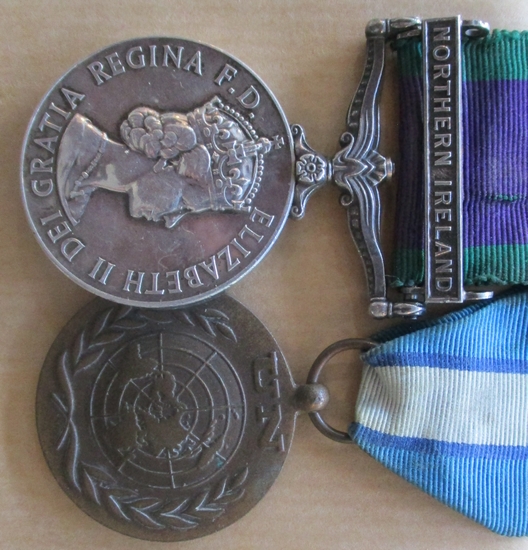 With letter from RGJ Museum stating that Leach served with R Company, 3rd Battalion Royal Green Jackets in Northern Ireland in 1971. They had the task of patrolling the Lower Falls area.
Pair:

SOLD


M

Egypt Medal 1882

Tel-El-Kebir
319 PTE. J. MAHER. 2/R. IR:R.

Khedive's Star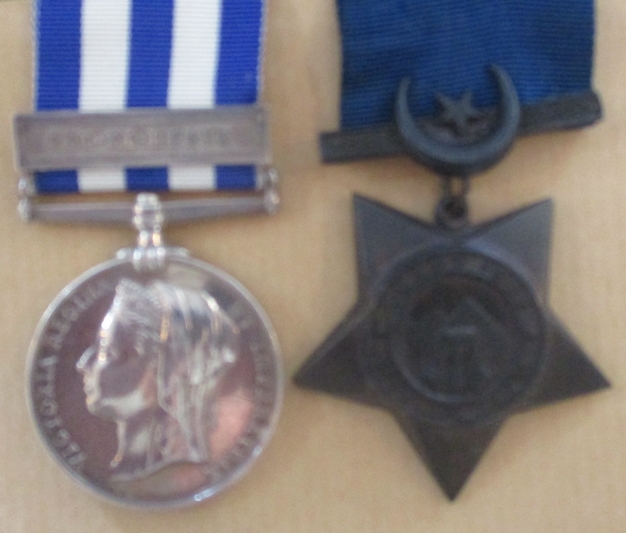 Medals and clasp confirmed on rolls. James Maher served with 2nd Battalion Royal Irish Regiment.
Pair: £260
Africa General Service Medal

Kenya
195 T.P.R. STEPHANO MBOGORI.

£50

Tribal Police Reservist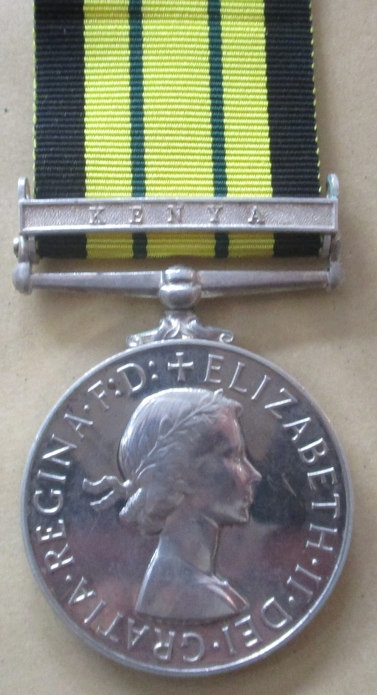 Egypt Medal

Gemaizah 1885
1478 PTE. T. MORRIS. 1/WELCH. R.

£290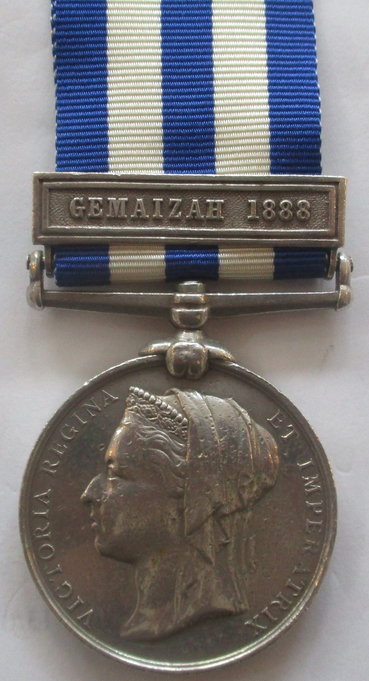 Medal roll shows Thomas Morris.


Crimea Medal Sebastopol

Sebastopol
W. MOSS. SCOTS FUSILR GDS.

£220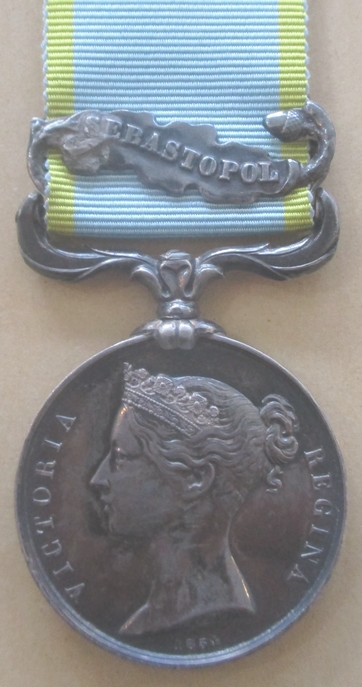 Impressed medal. William Moss was from Siddington, Gloucestershire. Enlisted 22 April 1854. He died before Sebastopol 10 December 1854.
Mark on clasp under the S


N
Cape of Good Hope General Service Medal

Bechuanaland
NATIVE DET.CHARLES NTISI. C. POL.

£200
Native Detective, Cape Police.

RESERVED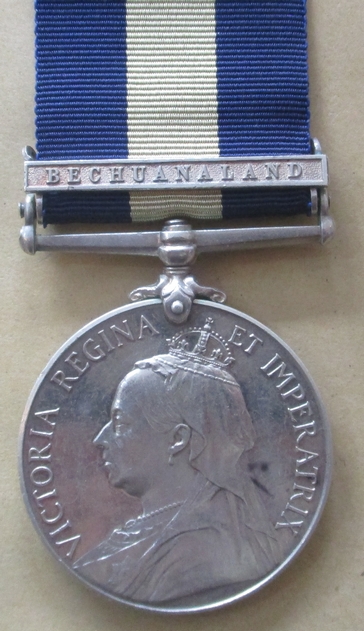 P

1939-45 Star
France & Germany Star
Defence Medal
War Medal
Police Long Service Medal (QEII)
INSPR. BERNARD T. PHELAN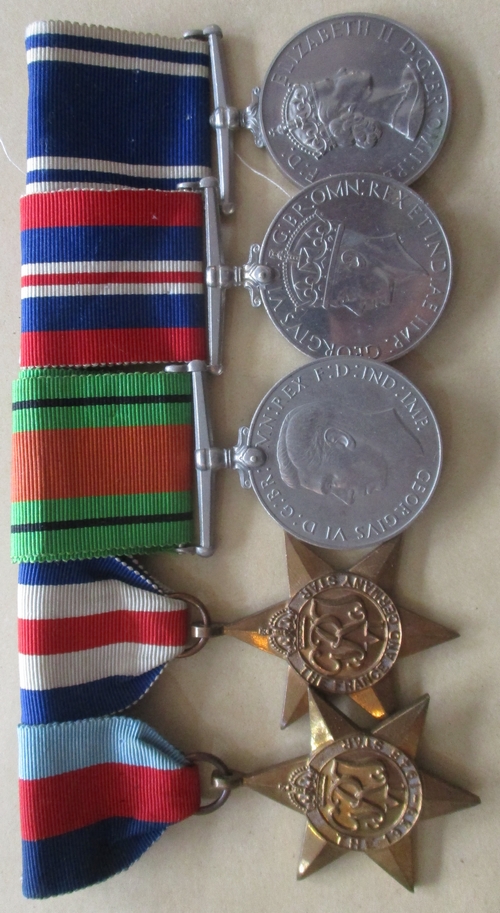 Bernard Terence Phelan was born 1914 in Bristol. He joined Bristol Police 14 February 1934. Sergeant March 1938. Joined the R.A.F. 29 June 1942 and served as a Navigator. Rejoined the police May 1946. Passed for Inspector April 1949.
Awarded Police Medal February 1956. He died in Bristol December 1990.


Group of Five: £145
M.B.E. (Military)
Queen's South Africa
Medal

Cape Colony/Transvaal/Wittebergen
4995 SEJT. W. PRICE. MANCH: REGT.
King's South Africa Medal

South Africa 1901/South Africa 1902
4995 SJT W PRICE MANCH REGT (renamed)
Royal Niger Company Medal
COLOUR SERGT W. PRICE. W.A.F.F. (specimen medal, engraved naming)

Africa General Service Medal

N.Nigeria 1904
SGT. W. PRICE. W.A.F.F. (renamed)
British War Medal
Q.M. & LIEUT. W. PRICE.
Victory Medal
Q.M. & LIEUT. W. PRICE.
1935 Jubilee Medal
1937 Coronation Medal
No.4995 Q.M.S. W. PRICE. MANCH.R.
Meritorious Service Medal
4995 R.Q.M.S. W. PRICE. MANCH.
Army Long Service Good Conduct Medal
4995 Q.M.SJT: W. PRICE. MANCH: REGT.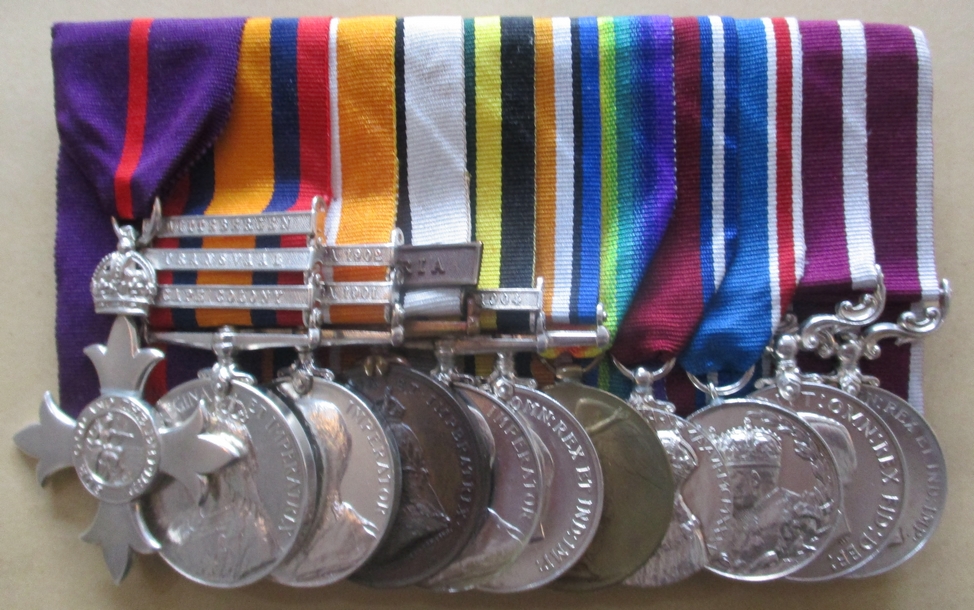 A strange group of correct medals and renamed medals.
William Price was born at Llangattock, Brecknock in 1877 and
enlisted October 1896 into the South Wales Borderers. Transferred to the Manchester Regiment November 1896. To India December 1896. Corporal March 1899. To South Africa and Sergeant March 1900. Mentioned in Depatches 2 August 1901 "for distinguished service at Wilge River 13 July 1901." Posted to the Northern Nigeria Regiment, West African Frontier Force (service record confirms award of AGSM N.Nigeria 1904). Colour Sergeant February 1906. Colour Sergeant July 1911.
LSGC Medal awarded 1914.

24 February 1917 "Brought to notice of the Secretary of State for War for valuable service." Served in UK until 25 April 1918 when he went to France with 11th Manchesters. Discharged to commission April 1918. MBE (Military) Gazetted 3 June 1935 as Major (QM), 9th Battalion Manchester Regiment, Territorial Army.

Group of Eleven: £750

1939/45 Star
France & Germany Star
Defence Medal
War Medal
Queen's Korea Medal
935937 SJT. J.A.L. PRINGLE. R.A.
United Nations Medal

Korea


Army Long Service Good Conduct Medal
935937 SGT. J.A.L. PRINGLE. R.A.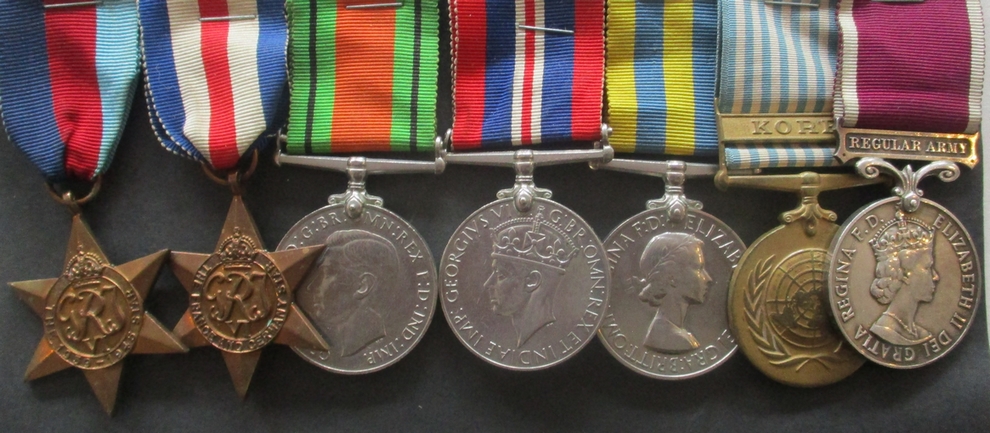 John Lewis Alexander Pringle (enlistment register) shows that he joined the Royal Artillery in 1939, aged 19. He death was registered in Wrexham in 1989.
Group of Seven: £200
1939/45 Star
Africa Star

8th Army
Italy Star
Defence Medal
War Medal

MiD


General Service Medal

Palestine 1945-48
7596624 S/SJT. L.R. RIXON. R.E.M.E.

1953 Coronation Medal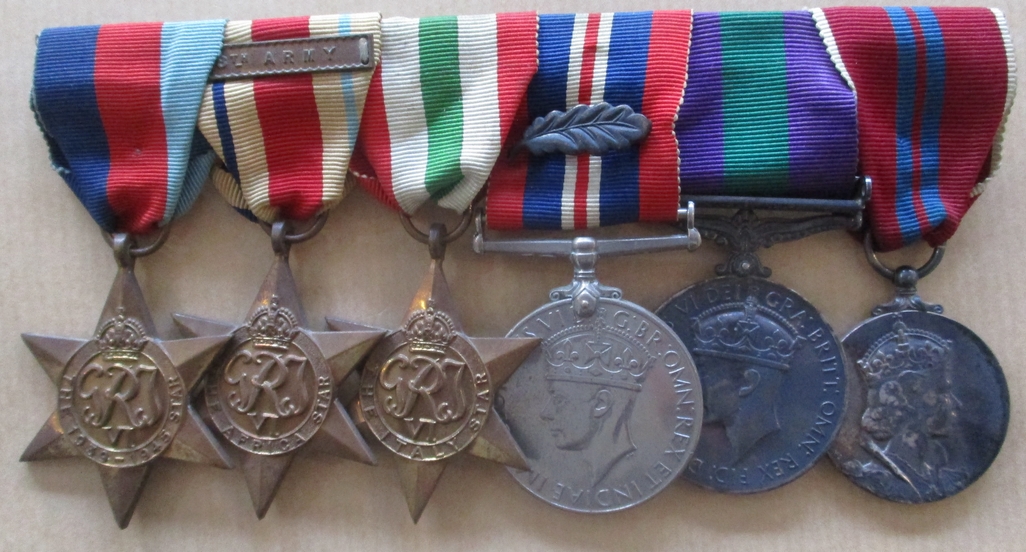 Medal roll confirms medal and clasp. MiD not confirmed.
Group of Seven: £175



S

Efficiency Medal

Territorial
5186798. GNR. H.F. SARGENT. R.A.
SOLD


T


India General Service Medal

N.E. Frontier
1442 Singh Thapa 1st Bn 2d Gurkha Regt £145
Rank naming is indistinct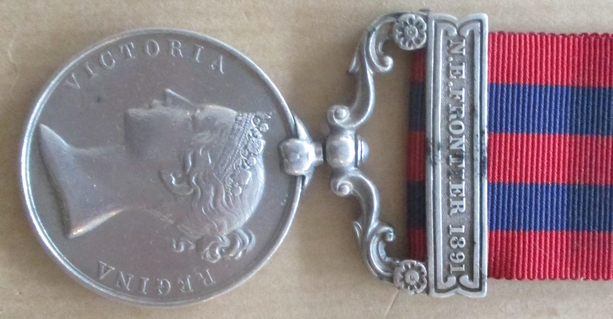 V


Crimea Medal

Sebastopol
NICHOLAS O.M. VIZE.

£150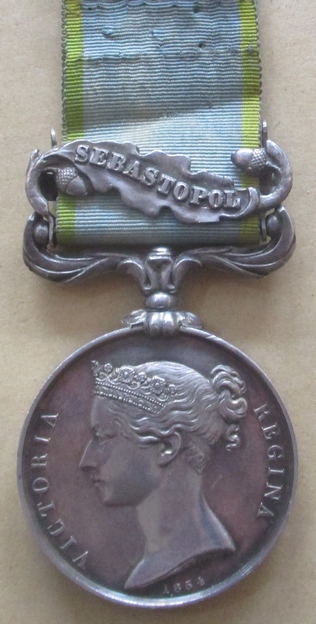 A "self-awarded" medal. Nicholas Ogle Moore Vize was born in Queens County, Ireland in 1935. Commissioned Ensign 1st Regiment, 18 October 1853. Ensign (late Lt, 1st Regiment) to be Lieutenant, 4th West York Militia, 12 June 1854 but resigned in May 1855. Did not serve in the Crimea. He died at Rathfarnham, Ireland in 1861. Engraved in capital letters.

W
India General Service Medal

North West Frontier
856 PTE. WILLM JOHN WAITE, 7TH HUSSARS.

£300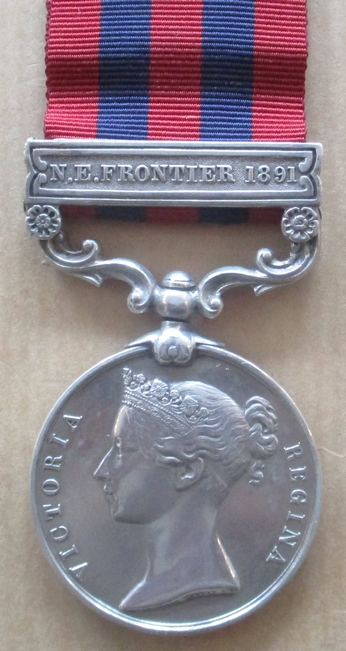 William John Waite was born 1841. Medal roll confirms that he was one of only 11 men of the 7th Hussars to receive the medal. 1871 census shows him as 856 Hospital Sergeant, 7th Hussars. In 1873 he appeared as a witness in a curt case against Henry Pickering Wright, who had fraudulently enlisted. "Sergeant William John Waite, Army Hospital Corps, produced a register of the 7th Hussars. The prisoner was the same man as the one mentioned in the register. He had not the slightest doubt about him being the same man, he having seen him on three different occasions." On 11 October 1876 Sergeant William John Waite, from Army Hospital Corps to be Quartermaster, 7th Hussars. Hon. Captain (QM) October 1886. Retired 25 September 1895 as Quartermaster (Hon. Capt), 7th Hussars. 1901 he was living in Coxlodge, Northumberland.