Collection of medals being offered for sale. Payment to be made to the owner by bank transfer.
C.B. (Military Division)
Distinguished Flying Cross

Bar



1939-45 Star
Aircrew Europe Star

France and Germany


Defence Medal

War Medal

MiD
1953 Coronation Medal
Legion d'Honneur
Croix de Guerre Palms

With original MiD certificate, Croix de Guerre Citation, D.F.C. box with ribbon bars.
Ian James Spencer was born 6 June 1916. Acting Pilot Officer September 1937 (General Duties), Flying Officer January 1940, Flight Lt. April 1941. Squadron Leader May 1941, Acting Wing Commander 1943. Acting Group Captain October 1956. Acting Air Commodore April 1961. Air Vice Marshal January 1966. Retired January 1968.
Awarded D.F.C. 4 July 1941: "In June 1941 this officer led a formation of aircraft which carried out an attack on an enemy merchant ship. In spite of intense anti-aircraft fire from this and other escorting vessels, Squadron Leader Spencer pressed home his attack from a low altitude and the formation succeeded in destroying the merchant vessel. After delivering the attack his aircraft received direct hits causing damage to the starboard engine and inner port petrol tanks, while Squadron Leader Spencer was hit in the leg sustaining a fracture in two places and his observer was wounded in the back. Despite his injury, S/L Spencer succeeded in flying his aircraft back to this country although the starboard engine and instrument panel were out of action. On a previous occasion S/L Spencer successfully bombed an enemy tanker off the Norwegian coast in the face of intense anti-aircraft fire, and although his port engine was disabled, he succeeded in flying his aircraft safely back to this country. He has shown great determination, courage and efficiency."
110 Squadron. Bar to D.F.C. 14 April 1944. Awarded Croix de Guerre with palm 16 March 1945: "Wing Commander Spencer, I.J. A Pilot of great skill, he led on several on occasions over enemy-occupied territory, important formations of French and British bombers, with the skill and precision of his manoeuvers he ensured the success of these missions and thereby gained trust and general esteem. This citation is for the award of the Croix de Guerre with palm."
MiD 1 January 1946. C.B. awarded 8 June 1963.
Served with 35 Squadron 1938. 110 Squadron 1941. 107 Squadron 1943. 88 Squadron 1944. RAF Staff College 1949. October 1960 he headed an Anglo-German inquiry incident when two German fighter jets buzzed a Comet which was flying the Queen home from Denmark. Air Attache, Switzerland 1950-53. Air Staff, HQ Second Tactical Air Force, Germany 1956-57.
Air Officer Admin. HQ Transport Command 1961-64. Director, Air Secretary Directorate 1964-65. Air Officer, HQ Far East Air Force, Singapore 1965-67. He died in Cheltenham 15 May 1994.


Group of Nine: £5250

King's Police Medal for Gallantry
KHAN OBEIDULLAH KHAN, INSPR. OF POLICE, PUNJAB £775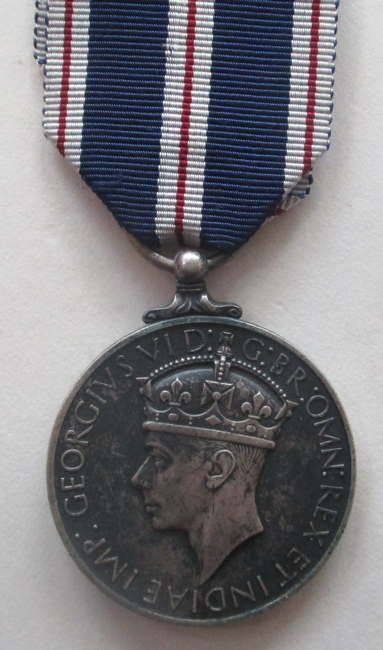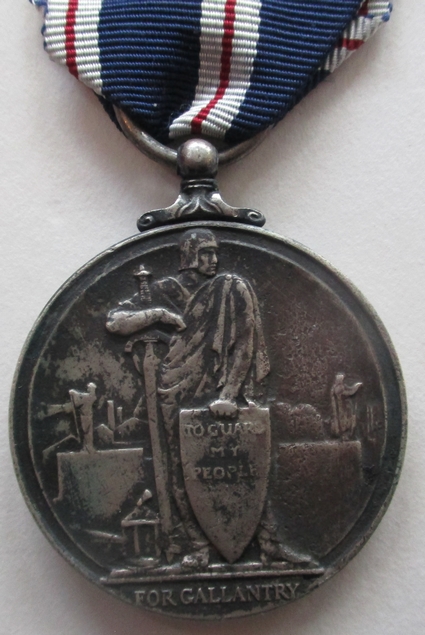 London Gazette 27 August 1940. Served in the Hissar District. Born 19 July 1904 in Mianwali. A Muhammadan Pathan, he joined the police 2 April 1931. Held non-gazetted appointments until 14 January 1941.

Military Medal
676655 DVR. W.PICKUP. R.F.A. £250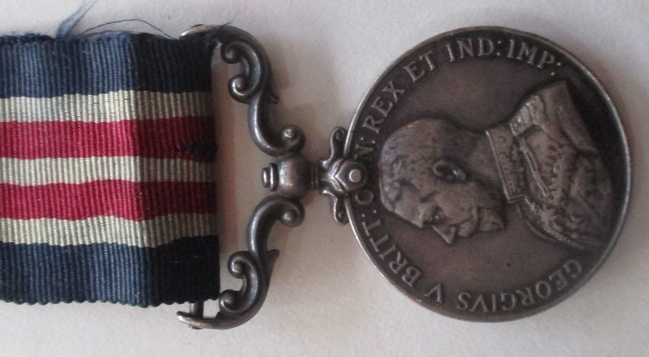 William Pickup was born in Liverpool and enlisted into the 1/8th Battalion Liverpool Regiment August 1914. To France March 1916 and transferred to 1/4th W. lancs Howitzer Brigade, Royal Field Artillery. Discharged April 1919. MM Gazetted 20 August 1919, D/275th (W. lancs) Bde, Royal Field Artillery. Medal sent to his home in Cardwell Street, Edge Hill, Liverpool.
Naval General Service Medal

Algiers
DANL. COX. £1200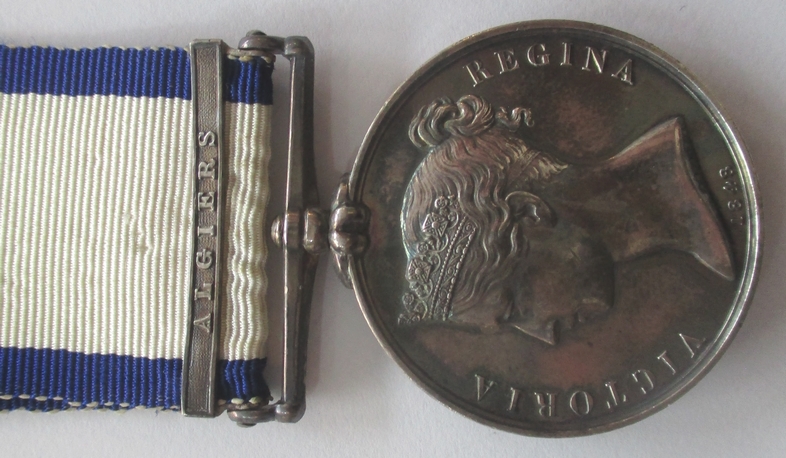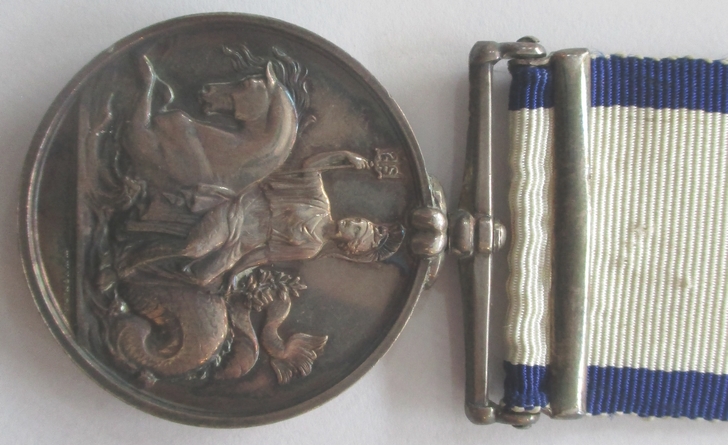 Daniel Cox was Carpenter's Crew on HMS Superb. August 1816 the Royal Navy attacked Algiers to stop the Dey of Algiers from continuing to trade in slaves.
Sutlej Medal (Moodkee)
erased

£125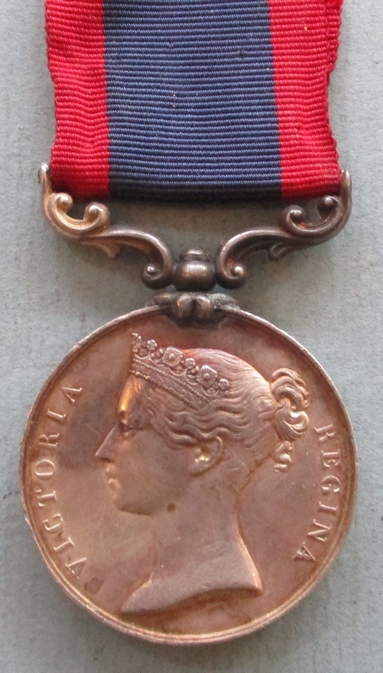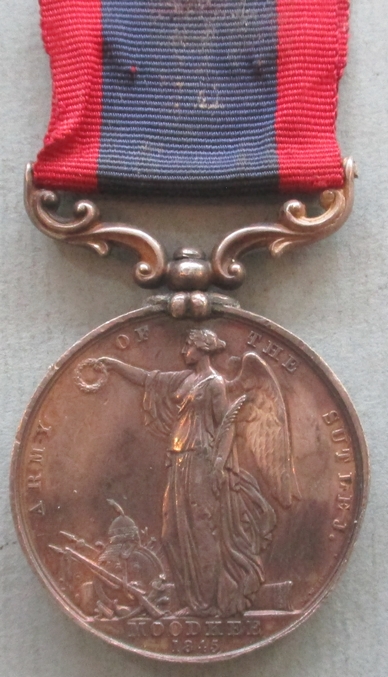 India General Service Medal

Pegu
LIEUTT W.J. VIZARD. 35TH REGT. M.N.I. £400

SOLD Re-united with his Mutiny medal!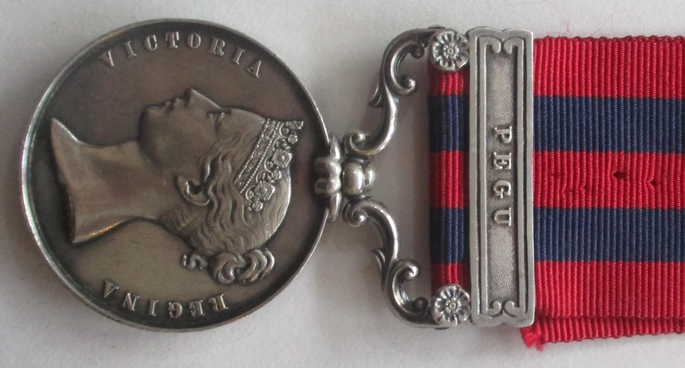 Walter John Vizard was born in Dursley, Gloucestershire and was commissioned Ensign in 35th Madras Native Infantry in 1846. Served in Pegu during the Second Burmese War. During the Indian Mutiny he commanded a detachment at Diggi, North Canara, March to December 1858 (medal). By 1877 he was a Colonel in the Madras Staff Corps. He retired as Major-General, and died at Dursley, Gloucestershire, December 1898. His Mutiny Medal was sold at Noonans (DNW) in March 2017.


India General Service Medal

Burma 1887-89/N.E. Frontier 1891
778 Pte Roramal Chin Police Levy £140

RESERVED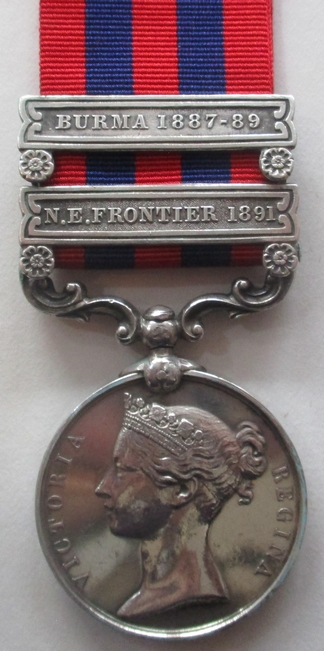 New Zealand Medal (undated)
2337 CR. SERGT. WM. HARRISS. 68TH FOOT.

£325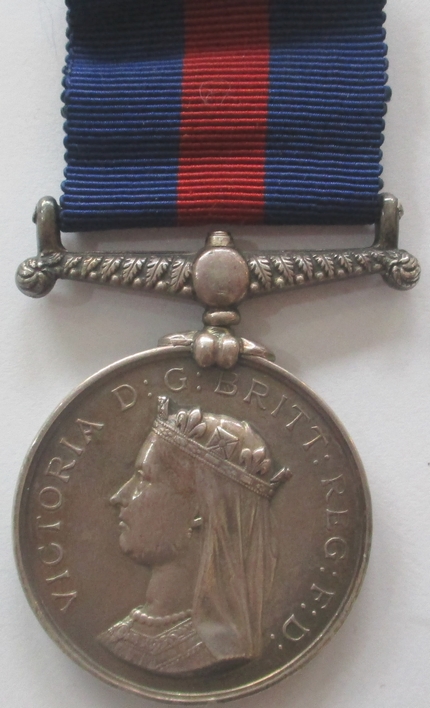 William Harris (double s on medal) enlisted into the 68th Foot in 1844.
Served Malta, Crimea (entitled to medal with three clasps), India and New Zealand. Sergeant 1855. Colour Sergeant 1861. Awarded the Long Service Good Conduct Medal 1866.

New Zealand Medal
(undated) TPR. J. ARNOLD. N.Z.C. £325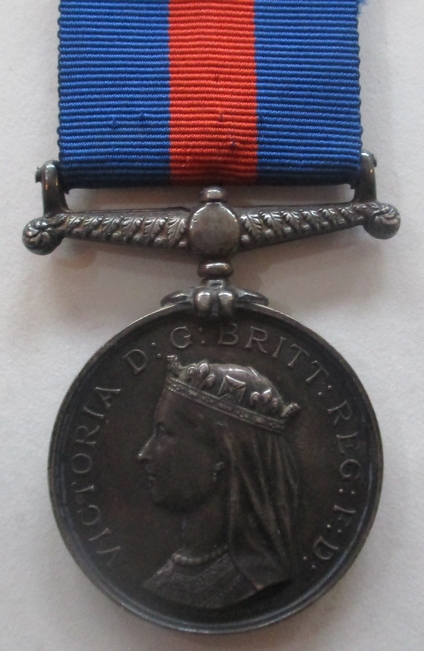 Medal roll shows Private John Arnold, Auckland Militia
and that he was a butcher
. John Arnold was born 1833 in Lancashire and went to Australia to look for gold. In 1862 he went to work in the Otago goldfelds, New Zealand. In 1863 he joined the 3rd Waikato Militia and was a butcher. His obituary states that during the Maori Wars he served with "Von Tempsky's Rangers." He settled in Camp Cambridge with his wife, where he was given a plot of land to build a house and he opened a butcher shop. He died 11 July 1919.

Ashantee
Medal
W. TUCKETT LG STOKER . H.M.S. BITTERN. 73-74 £220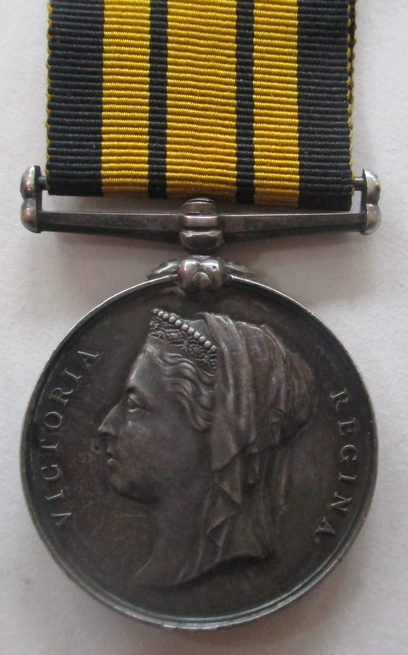 William Tuckett was born January 1834 in Exeter. Joined the Navy September 1870 and served in Bittern to March 1875. Discharged from Indus October 1880. The Ashanti kingdom built its power on military subjegation and enslaving weaker tribes. Despite British demands to give up the slave trade, the Ashanti refused.


Afghanistan Medal
245 PTE. J. FLYNN. 4TH BN. RIFLE BDE.

£145


John Flynn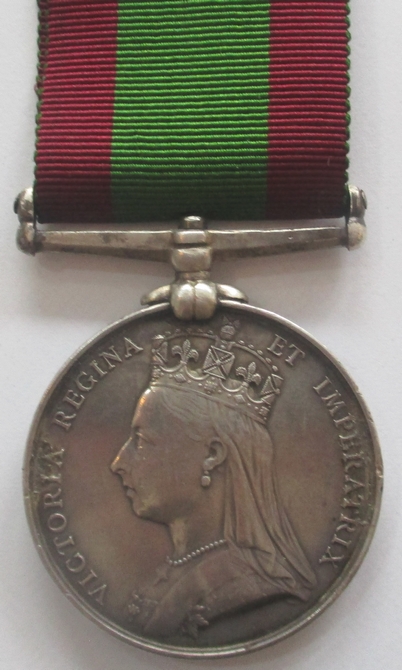 Kabul to Kandahar Star
1893 PRIVATE A. NEIL 92ND HIGHLANDERS £275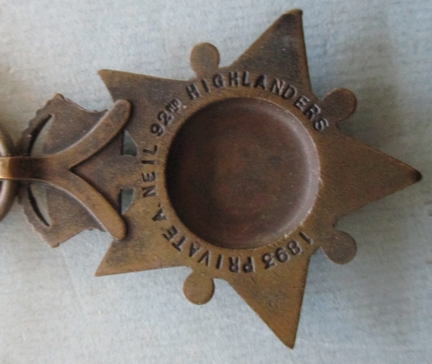 Alexander Neil was serving in India in 1871 (military census).
Egypt Medal 1882

Suakin 1885
1440. PTE. P. MCKENNA. 1/SHROPS. L.I.

Khedives Star 1882
Peter McKenna was born in Co. Tyrone and enlisted February 1880. Served Egypt 1882-83 (medal), Malta, Suakin 1885 (clasp), and discharged September 1890.


Pair: £250
Egypt Medal 1882

The Nile 1884-85
2919 PTE. T. BRETT. 1/RL. IR: REGT.

Khedives Star 1884-5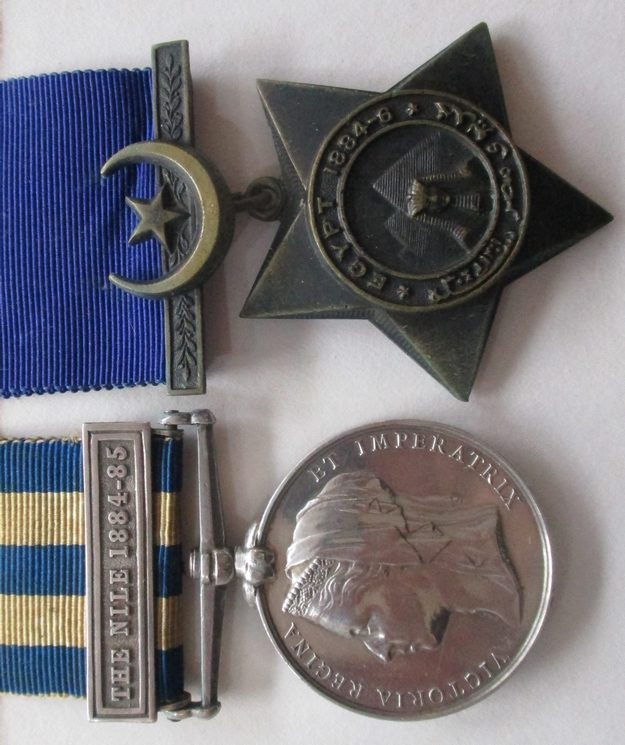 Thomas Brett.


Pair: £250
Egypt Medal 1882

Suakin 1885/Tofrek
5509 PTE J.W. LONG, M.S. CORPS.

SOLD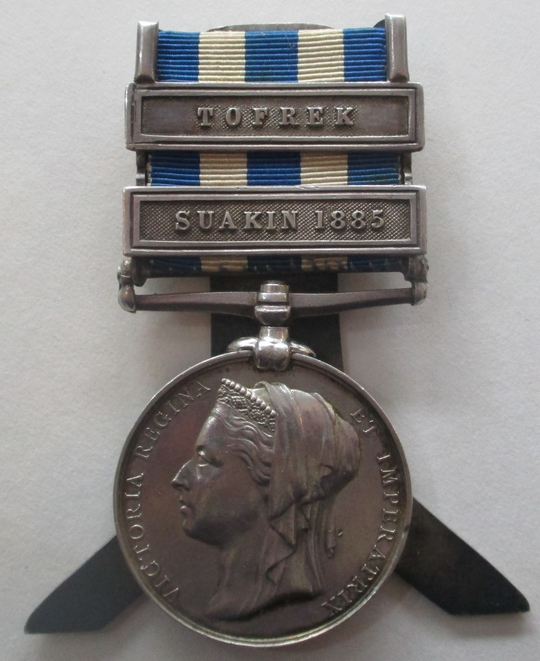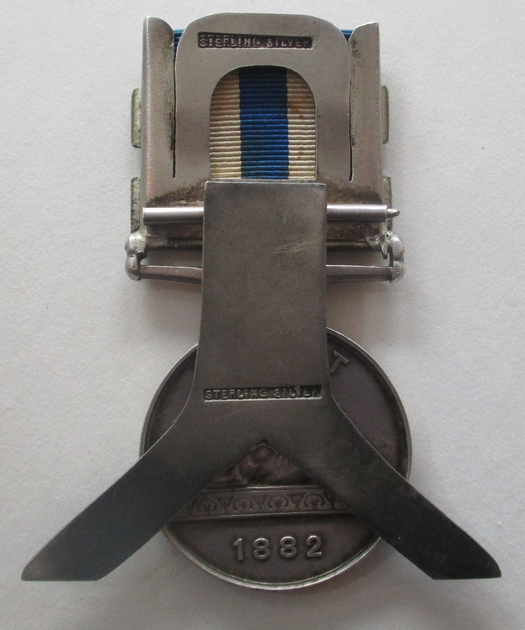 (medal turned into menu holder). John William Long was born in Brighton and enlisted June 1881 in the Royal Sussex Regiment. Served malta 1882. Transferred to the Army Hospital Corps 1883 and to the Medical Staff Corps 1886. To the Reserve 1893. Papers note that "new medal issued at own expense 29.7.1891." Medal roll does not show entitlement to Tofrek clasp.

India Medal

Relief of Chitral 1895
Capt. C. Haynes. 1st Bn. E. Lanc: Regt. £220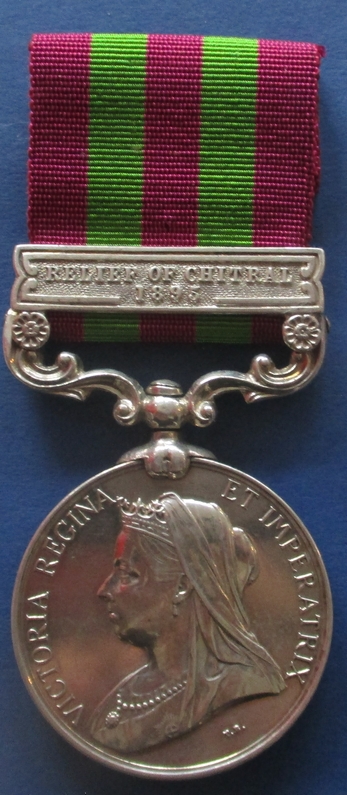 Carlton Haynes was born in Barbados in 1858. Educated at Clifton College, Bristol, where he played cricket for the team and for Gloucester XI, making five first class appearances. Commissioned from Sandhurst into the East Lancashire Regiment. Served in Afghanistan 1880. Served with the Chitral Relief Force 1895. In 1903 he was appointed Governor Leeds Prison and later of Brixton Prison 1912-1922. Retired to Lewes, Sussex.


Queens Sudan Medal
3013 PTE R. HARDING. 2/R BDE:

Queen's South Africa Medal

Defence of Ladysmith
/
Transvaal/
Cape Colony/Orange Free State
3013 PTE. R. HARDING. RIFLE BRIGADE.
King's South Africa Medal

South Africa 1901/South Africa 1902
3013
PTE. R. HARDING. RIFLE BRIGADE.

Khedive's Sudan Medal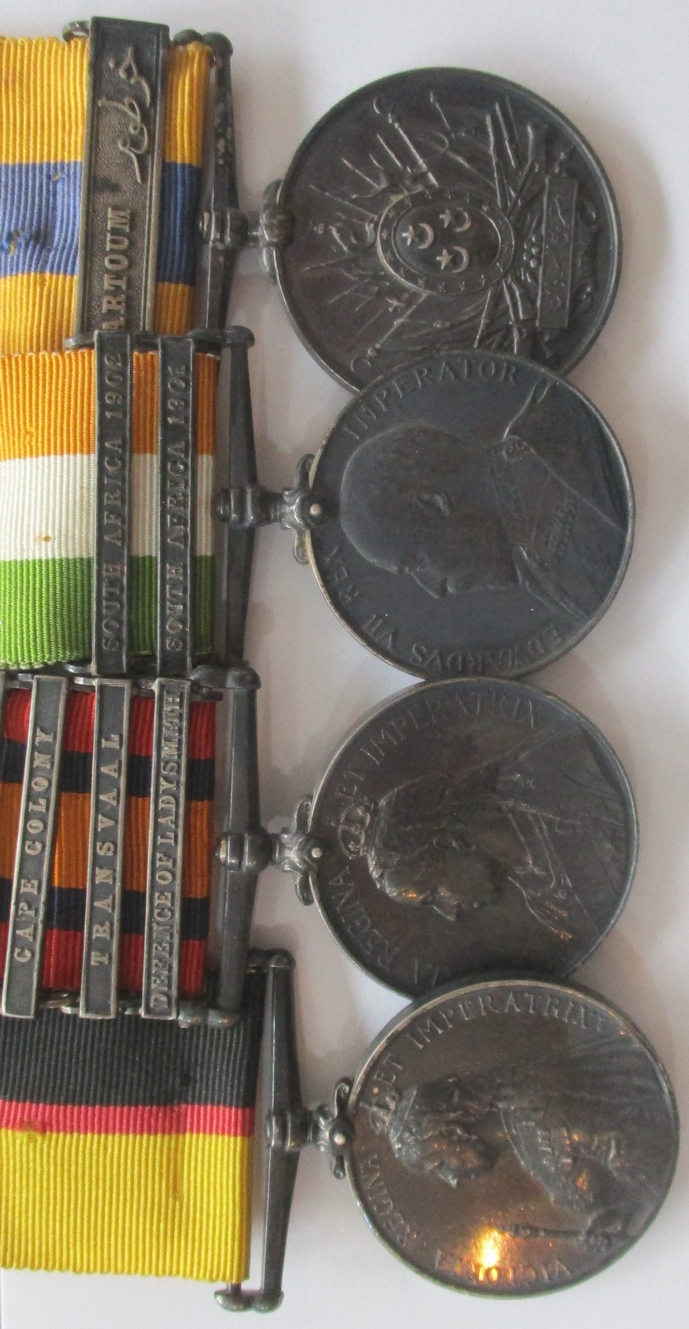 Robert Percy Harding was born in Woking, Surrey and enlisted into the Rifle Brigade October 1893, aged 18. Served in Hong Kong October 1895 to November 1896; Singapore to January 1898; Malta to July 1898; Egypt to September 1898; Crete to October 1899; South Africa to October 1902. Discharged October 1905. Served in the Nile Expedition 1898, Occupation of Crete, and Boer War. First two medals on QSA are on one roll, top 2 on another roll, and these two are loose on the ribbon.
Group of Four:

SOLD
China Medal (1900)
W.C. FARROW, A.B., H.M.S. ENDYMION.
British War Medal
175326 W.C. FARROW. P.O. R.N.

Victory Medal
175326 W.C. FARROW. P.O. R.N.
Royal Navy Long Service Good Conduct Medal (EdVII)
175326 W.C. FARROW, P.O. H.M.S. ROXBURGH.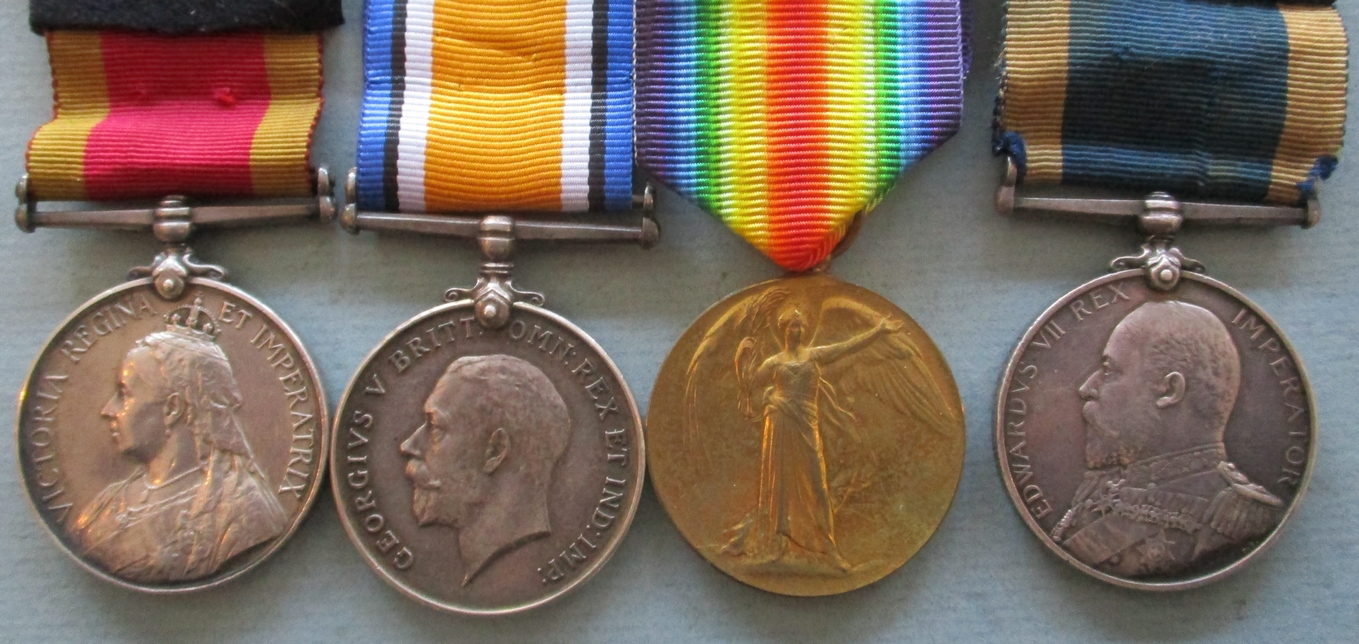 William Charles Farrow was born in London in 1877 amd joined the navy in 1898. Served on HMS Roxburgh in China. Long Service Medal awarded 1910. In March 1915 he joined HMS Princess Irene, a new Ocean liner converted to a minelwayer. 25 May 1915 she went to Sheerness to be loaded with mines. On morning of 27th May a party of dockyard workers went on board to help prime the mines. At 9.15 am three of the crew went ashore to collect the ship's mail. At 11.14 am Princess Irene was blown to pieces by a massive explosion. An eyewitness said that it looked like Vesuivius has exploded and that the explosion went a mile into the air and he could see men among the debris. Several people on shore were killed by debris. Locals were asked to search their property and farms for wreckage and human remains. Debris was found 11 miles away. Every man on board was killed, over 380 men, but the remains of only 15 men were identified for burial. The men are listed on the Portsmouth Naval Memorial and on the Sheerness War Memorial.
Group of Four: £450


India General Service Medal

North West Frontier 1908
4039 Sepoy Haidar Khan 40th Pathans £80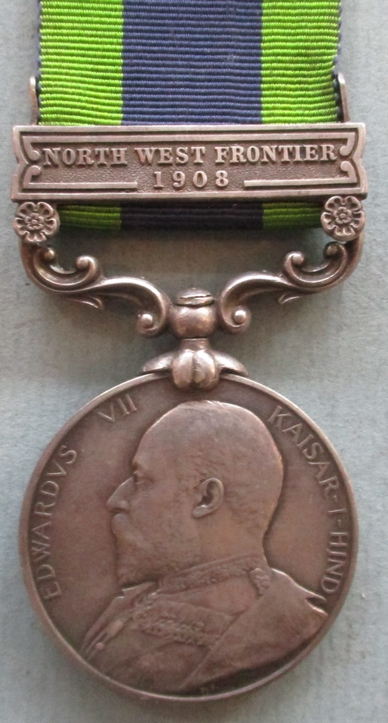 1914/15 Star
18954 PTE. A.E. HALFORD. GLOUC.R.
British War Medal
18954 PTE. A.E. HALFORD. GLOUC.R.

Victory Medal
18954 PTE. A.E. HALFORD. GLOUC.R.
Albert George Halford was born 1879 and lived in Vauxhall Road, Gloucester. Arrived in France 18 May 1915. He was discharged 11 September 1916 due to sickness (Silver War Badge). He died in 1919.


Trio: £50
SOLD
1914/15 Star
24604 DVR: D. SEXTON. R.F.A.

British War Medal
24604 GNR. D. SEXTON. R.A.
Victory Medal
24604 GNR. D. SEXTON. R.A.
Dennis Sexton served in Egypt from 4 July 1915.


Trio: £50
British War Medal
58343 PTE. J. EDWARDS. S. WALES BORD.

£20



James Edwards served with the South Wales Borderers and 13th Battalion Welsh Regiment. Entitled to pair.

British War Medal
44993 PTE F. MCKENNA. M.G.C.

£20


Francis McKenna lived in Delburn Street, Parkhead, Glasgow and enlisted December 1914. Served in France from December 1916 to January 1917 and again from August 1917 to September 1917. He was discharged 13 December 1917, suffering a collapsed lung.


British War Medal
161846 PNR. S. MAYO. R.E.
Victory Medal
161846 PNR. S. MAYO. R.E.
Stanley Mayo was born in Dymock, Gloucestershire in 1897 and in 1911 was living in Seymour Road, Gloucester.


Pair:
SOLD
British War Medal
LIEUT. T.A. WALKER

Victory Medal
LIEUT. T.A. WALKER
Thomas Andrew Walker was commissioned 11 November 1915 in the Royal Garrison Artillery and went to France 7 June 1916.


Pair:
SOLD
British War Medal
2129 PTE. F. WESTWOOD. ESSEX R.

Victory Medal
2129 PTE. F. WESTWOOD. ESSEX R.
Frederick Westwood was fromSaffron Walden, Essex and served with the 8th Cyclist Bn Essex Regiment. He then joined the 6th Bn Bedford Regiment in July 1915. He was discharged March 1918. He joined the Post Office in Saffron Walden and later in Essex.

Pair: £30
British War Medal
4303 GNR. F. ALLEN. R.A.

Victory Medal
4303 GNR. F. ALLEN. R.A.
Reginald Allen was from Worcester and enlisted into 2nd South Midland Brigade, Royal Field Artillery May 1916. To France March 1917. Discharged September 1919.
Pair: £30
British War Medal
37218 PTE. H. SIMMONS. E.SURR. R.

Victory Medal
37218 PTE. H. SIMMONS. E.SURR. R.
Harry Simons served with the 1st Battalion East Surrey Regiment.

Pair: £30
1914/15 Star
W.D. HUNTER, WR., M.F.A.
£20
British War Medal
C.O. SWANTON
£20
British War Medal
7132 PTE. M. FOX. S. STAFF. R.
SOLD
Mark Fox was killed in action 15 September 1914 at Moussy, serving with the 2nd Battalion South Staffordshire Regiment. He is buried at Moussy.


India General Service Medal

North West Frontier 1935
1-A-12091 SEPOY NAJIB KHAN, I. I.H.C.

£50


Indian Hospital Corps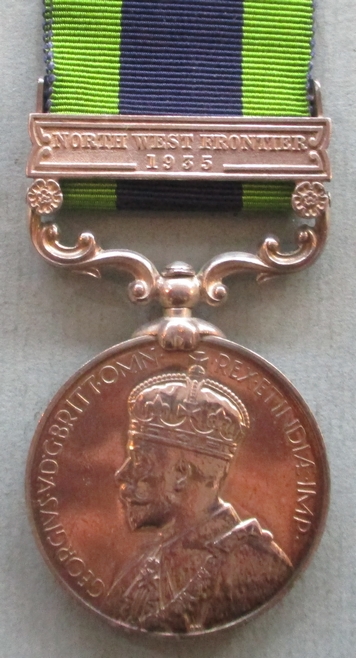 1939-45 Star, Atlantic Star, Defence Medal, War Medal
Royal Naval Volunteer Reserve Long Service Medal
TY.LIEUT. M.J. POLLOCK. R.N.V.R.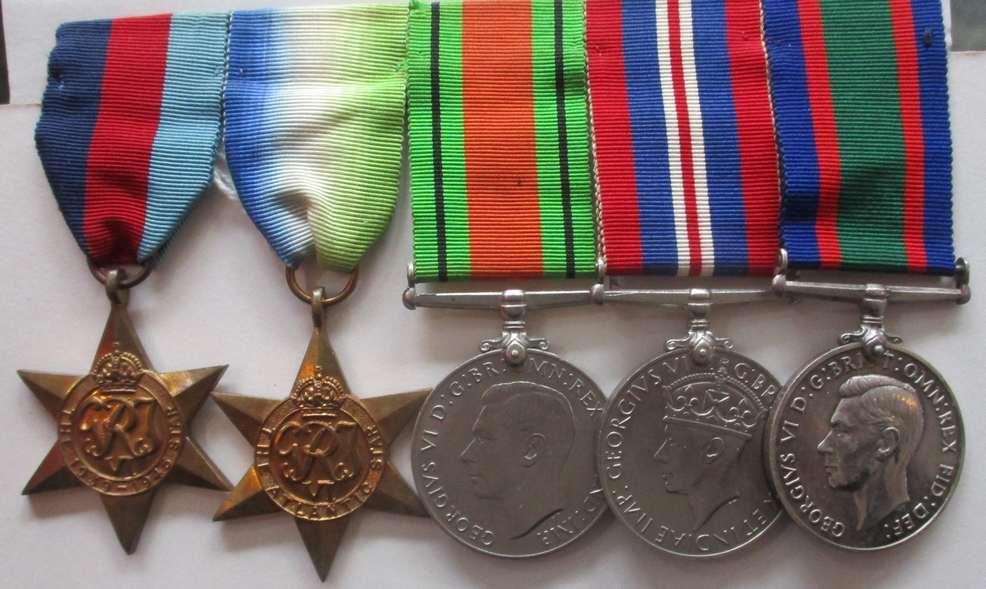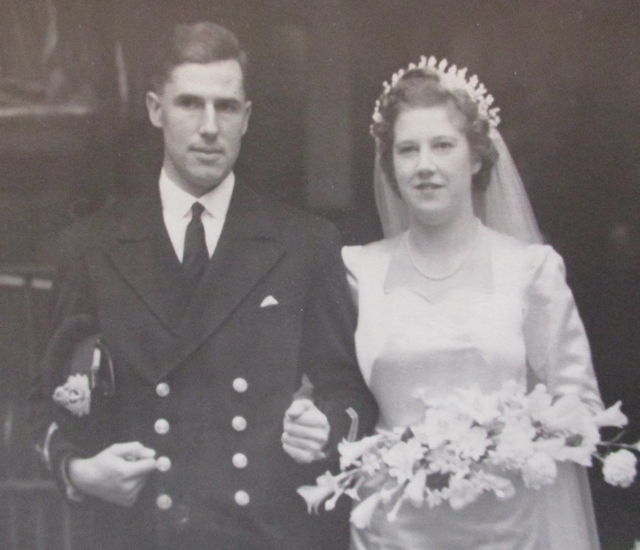 Martin James Pollock commissioned Temp. Sub-Lieut. 27 June 1940. In August 1940 he was serving on HMS Hinba (yacht); 1941 HMS Blankney (destroyer) and in 1941 was posted to H.A. Range, Wembury (Naval Gunnery School) where he spent the rest of the war. November 1942 married Pamela Uzielli in London. His RNVR Medal was awarded March 1949 and sent to him in Howard Street, Strand, London.


Group of Five: £120




1939-45 Star, Italy Star, Africa Star

8th Army

, Defence Medal, War Medal


Army Long Service Good Conduct Medal

538539 SJT. H.B. GLOVER. 3-H.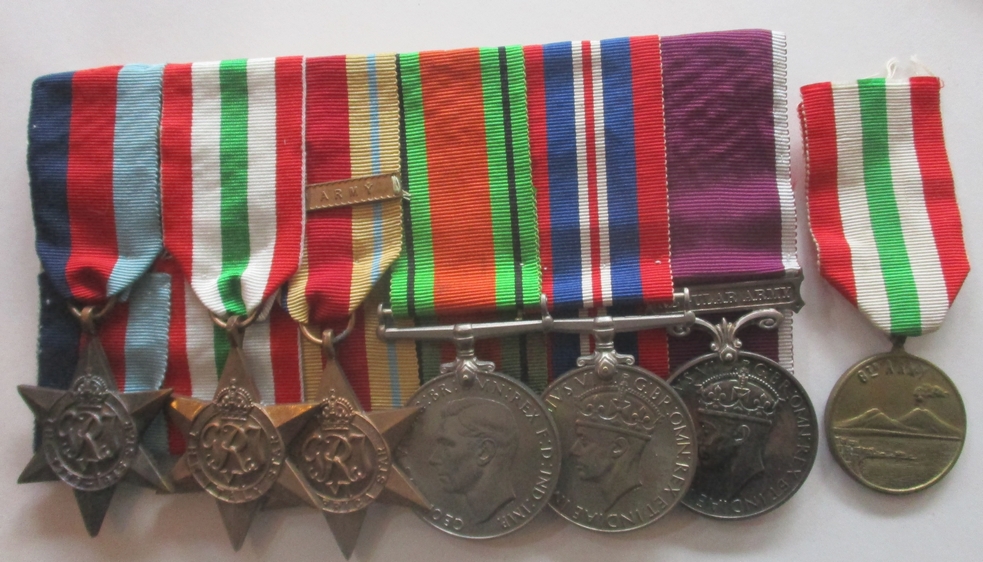 Herbert Barry Glover was born 1901 in Southall, London. Enlisted June 1919 and served with the 20th Hussars in Constantinople in 1920. Transferred to 3rd Hussars 1921. Transferred to Royal Dragoons August 1939. Early 1940 he was serving with T/102 (Northumberland Hussars) R.A. T.A. In 1941 WO1 Herbert Barry Glover, Royal Artillery, was commissioned 2nd Lieutenant in the Pioneer Corps. Retired 1945 as Hon. Major. He died in 1981.


Group of Six: £130
SOLD



1939-45 Star, Pacific Star, Defence Medal, War Medal




Efficiency Medal

Territorial 1472075.SJT.G.M. DOLAN.R.A.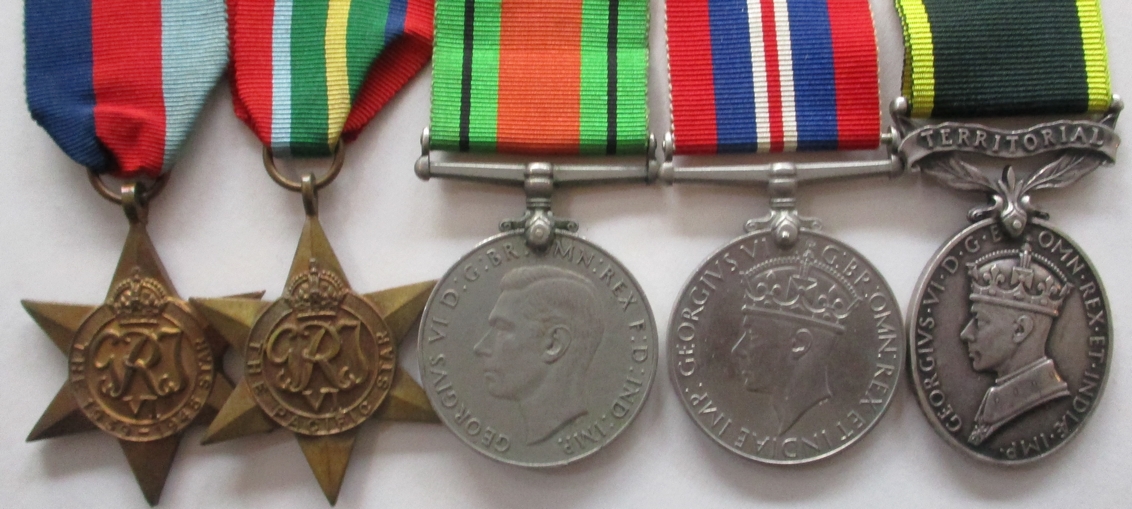 Enlisted 1938 and served with H.A.A.


Group of Five: £90
Africa Service Medal
216031 D.B. DOM £20


General Service Medal

Malaya
DN 32412 PTE PEASAI MSOSA K A R £50
King's African Rifles
General Service Medal (QEII)

Malaya
227292836 CPL. R.S. HAYNES. R.M.P.

£50
General Service Medal (GVI)

Malaya
4014046 L.A.C. H.W. WILKINS. R.A.F.

£50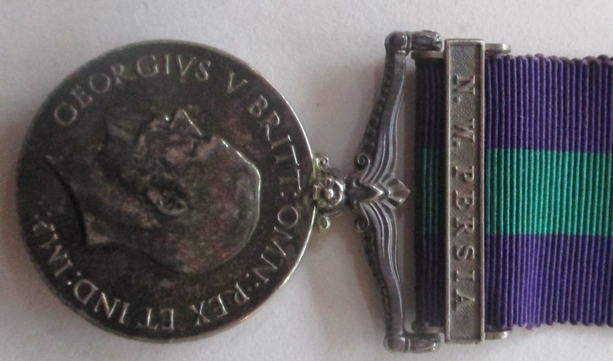 Harold William Wilkins.
Queen's Korea Medal
22559548 SIGMN. D. JONES. R. SIGS.
U.N. Medal Korea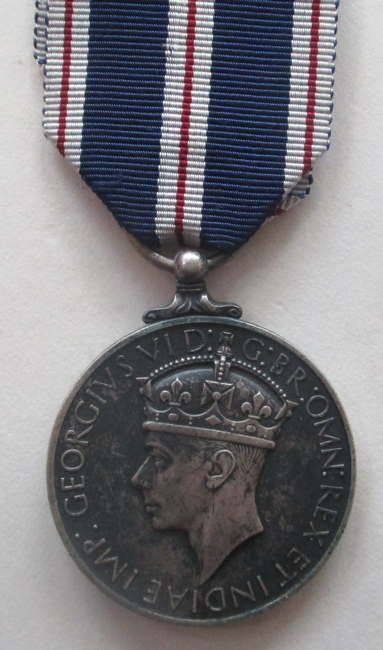 Pair: £120
Police Long Service Medal
CONST.. PATRICK C. GARVEY
£30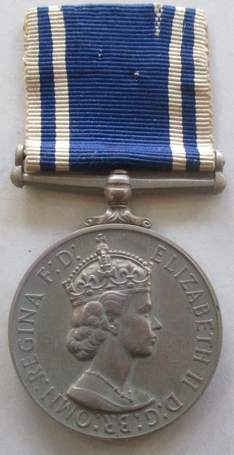 Patrick Charles Garvey was born in Birmingham in 1913 and was serving at Steelhouse Lane Police Station in 1939. He died in 1972.

Efficiency Medal

Militia 48277 PTE . M.A.G. NAYLOR. R.M.P.
SOLD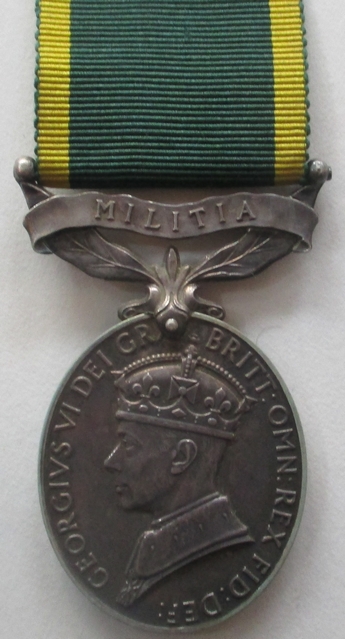 Montagu Alfred Goodbody Naylor was a motor mechanic from Faringdon, Berkshire and joined the R.M.P. (Militia) 1935. Awarded the Efficiency Medal 1948. Served until 1950. He was commissioned with the General List, Army Cadet Force in the London Gazette 9 April 1948: Territorial Army Reserve of Officers, Special List: Berkshire. Monatgu Alfred Goodbody Naylor (389152) to be 2nd Lt. 12 Feb. 1948. In the Gazette 2 March 1951: Army Cadet Force: Berkshire. 2nd Lt. M.A.G. Naylor (389152) resigns his commission, 1st Jan. 1951. He died in 1975.


Imperial Service Medal (GV)
AUGUSTUS ARTHUR MILLS

£20


Born 1871 and appointed postman April 1889. In 1911 lived in Shepherds Bush Road. Medal announced in London Gazette 21 April 1931. "Assistant Head Postman, London Postal District."
Imperial Service Medal (GVI)
PERCY ERNEST HAYWARD.

£20


London Gazette 10 July 1942. Skilled Workman, Class II, Gloucester Telephone Area.
1921 he lived in Longford, Gloucester. He died in 1956.


Cadet Forces Medal
TY.LT.CDR. (SP) D.W.J. VICKERIDGE. R.N.V.R.
£50

SOLD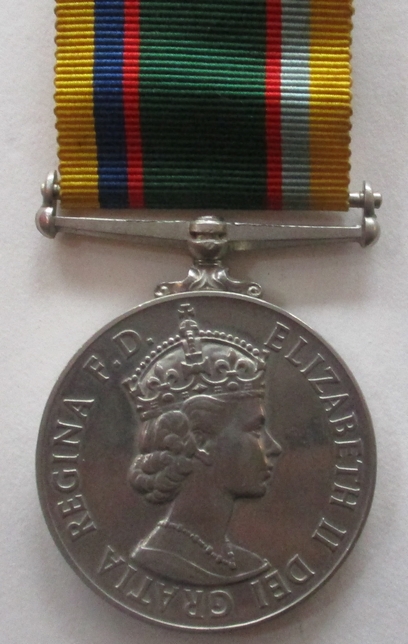 Dennis William John Vickeridge was born in 1926, son of Henry Vickeridge. Temp. Sub-Lt. R.N.V.R. 1947. He lived in Trinity Street, Tewkesbury and was commandant of Tewkesbury Sea Cadets.
He died in 2006.
Army Emergency Reserve Decoration

1965

£120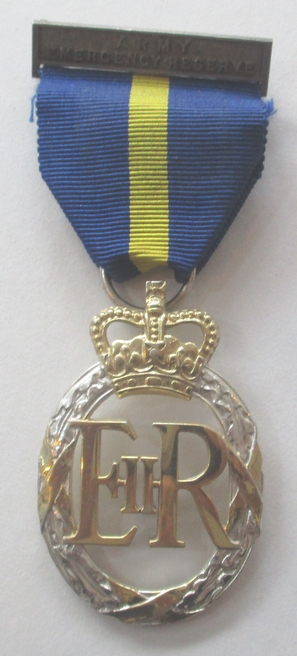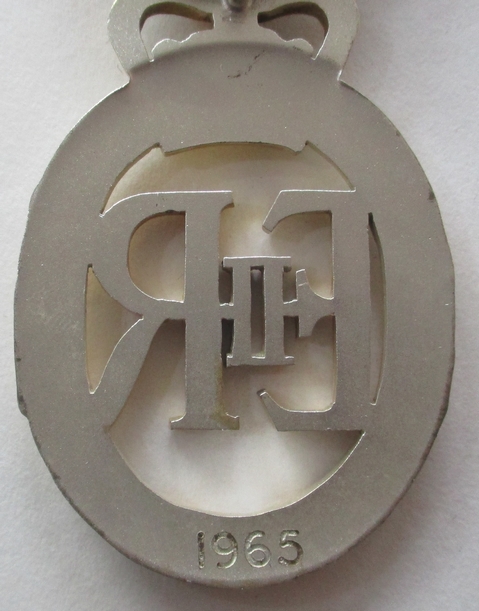 Shanghai Municipal Council Emergency Medal 1937

£300