Pakistan Independence Medal
PAK/43141 LAC. Z.G. KHAN. R.P.A.F.
£25
The Royal Pakistan Air Force was formed in 1947 on independence and became the Pakistan Air Force in 1956.
Medal does not have ribbon.

Defence Medal
War Medal
R.A.F. Long Service Good Conduct Medal (QEII)
637533 F.SGT. F. HYATT. R.A.F.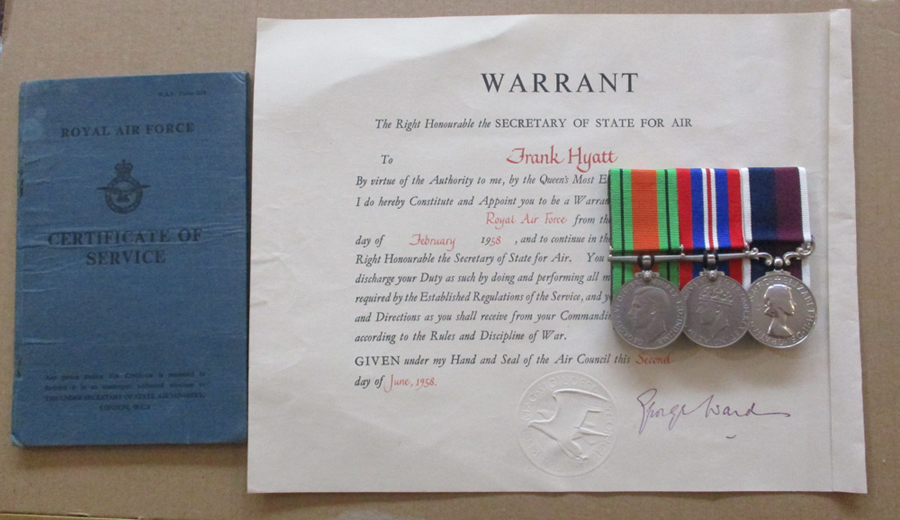 With Warrant and Certificate of Service. Frank Hyatt was born 25 August 1907 and enlisted 15 March 1939 as an Accounts Clerk 1939 to Februarey 1942.
Airfield Controller Feb. 1942 to December 1950. Ground Control Directors Tracking Course October 1951; Appointed Runway Controller. Appointed Aerodrome Traffic Controller January 1952. Assistant Controllers Course March 1957. Medal awarded 15 March 1957. Appointed Warrant Officer 1 February 1958. Trade: Air Traffic Controller. Discharged 29 May 1961 from RAF Northolt - "employed in local control towers and as Ground Controller Approach Radar Director. Mr Hyatt has at all times proved himself efficient in his work showing initiative and confidence necessary for a good Air Traffic Contoller." Medals confirmed. Frank Hyatt settled in Cheltenham, where he married Joan Hartshorne in 1972. He died in Cheltenham in 2007.
Group of Three: £110 (JS)