MILITARY AND CADET BANDS


British Army Cavalry Trumpet SOLD
No stamps


British Army Cavalry Trumpet £75
Stamped 1946 (War Dept arrow) HY KEAT&SONS MATTHIAS RD LONDON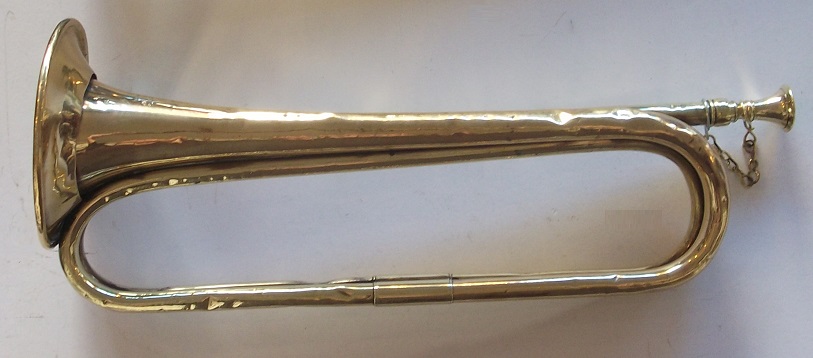 Engraved Brass Bugle - Gurkha Signals SOLD
Appears to have been silver-plated at some time. Engraved: PRESENTED TO 17TH GURKHA DIVISIONAL SIGNAL REGIMENT BY J.R. Morton MALAYAN TELECOMMUNICATIONS SERVICE 1958. The mouthpiece is engraved with manufacturer VINCENT BACH CORP. 12CW
"This bugle is one of about 8 silver bugles we wanted for our Regimental Pipes and Drums (originally raised in 1954 with a Piper transferred from 10 GR, Bombahadur Limbu, later becoming the Pipe Major). The bugles were disposed of in Malaysia in 1969 when the P&D were disbanded. Mr J.R. Morton - as all landline telephone and telegaph services during the Malayan Emergency were provided by the Malaysian Government Dept, it was essential for our Signals Regiment to have good relations with top management to get priority treatment when operations demanded, i.e a telephone line to a tactical artillery command post, as firing could NOT commence until the Kuala Lumpur Airport control tower had warned civil and military aircraft of the danger zone! Civil linemen often had to tap into the nearest landline and deprive a Rubber plantation of its only means of communicating with the outside world. Morton was a close friend of the Regiment who responded to our appeal for bugles." Lieutenant-Colonel Mike Barrett, OBE, Gurkha Signals.

British Military Bugle £45
Not marked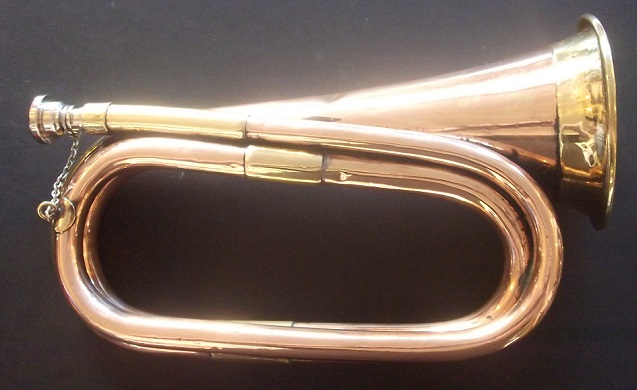 British Military Bugle SOLD
Not marked. With bugle chords.

Glockenspiel plumes made from horse hair Price per pair: £35



Glockenspiel chords Price per pair: £25




Bandleader's Mace of the Mississippi Army National Guard


London Hallmarked sterling silver 1969, made by Potters.
MISSISSIPPI ARMY NATIONAL GUARD 41ST ARMY BAND SOLD